Here's Crystal to inspire your creations with an adorable tutorial!
I started with decorating my envelope first. I know it seems backwards I think most people think to make their card and then decorate the envelope as a second thought. I thought the chicken on springs is so cute so I stamped him in the corner of the envelope and stamped the sentiment- "Oh What A Bird-Brain I Forgot Your Birthday!!!" next to the chicken. I made a mask using an all over sticky post-it note. When I masked I cut the springs off of my mask that was to much of a pain to fussy cut and just went over it with the ink.
With a blending tool I added blue ink from the corner of the envelope blending out to the middle so the other half of the envelop was white. I used a textured envelope which had the same feel and look as water color paper so I knew I would want to paint my chicken on my envelope with water color since I planned on making my card with watercolor cardstock. I was not sure how the envelope would take color so I was very careful to not add to much water.
To watercolor I just take an acrylic block and scribble some color on from a Spectrum Noir Aqua marker. I paint with a water brush so I don't need a cup of water on my desk and I don't need to worry about spilling it.
I ended up not painting the springs with the blue ink over them I didn't feel it needed to be painted.
After my envelope was done I stamped the image with the three chickens onto a piece of watercolor cardstock cut to 5 1/4"X 4" with Versafine black onyx pigment ink . Then I stamped the sentiment- "Aging Is Not For Chickens!" below the image. I also stamped the three chickens again on a piece of full stick Stick-it notes.
After I fussy cut my mask I put it over the stamped image. Some of the small pieces I just cut off because the are so small and they can just be painted over and know one will know. After I added the blue ink to the top and brown ink to the bottom I grabbed a piece of scrap paper and covered the top and misted the bottom with a spray bottle and blotted the water away with a paper towel. I misted the bottom to add some texture to make it look like the chickens are standing on some dirt.
I pulled my mask off and water colored the chickens. I matted the water colorpaper with some pattern paper attached it to a card base and added a few sequins.
Thanks for stopping by today I can't wait to see what you come up with for this challenge!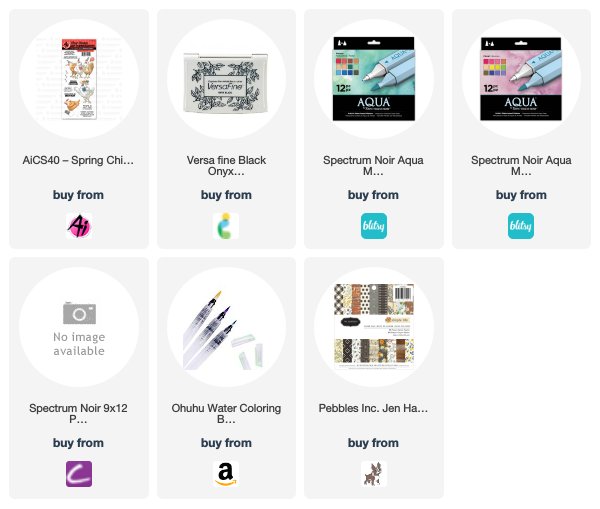 Thanks, Crystal!
It's time for a new challenge! Whoo! This time it's all about matching cards & envelopes! We cannot wait to see what you come up with!
Before we go, let's recognize the winners of last week's
Summer Vibes
challenge!
Top Spot goes to...
Congrats, Lorraine! We felt your
Girlfriends
card really encapsulated the fun of summer! Email annelise@artimpressions.com with your address so we can send you a prize pack!
Honorable Mentions to go...
Katrin!
Congrats, you two! We love Katrin's watercolor scene featuring our retired Ez Project B lighthouse set. The silhouetted people and flying birds are a great touch! And Charne, how adorable is your sliding dog from our
Reel Great Guys
set! Please email annelise@artimpressions.com with your address and select a stamp set of your choice for a prize!
Thanks for joining our challenge, we'll see you next week!
Happy Stamping!