Calling all Ai Funny Farm Fans--our 2021 Release is here!!
These two new animal-centered sets are the perfect addition to our growing family of stamps in this line!
Welcome baaa-ck to our Funny Farm line! Our Sheep Set includes 7 clear stamps with coordinating dies, and 13 clear sentiments. The sentiments include "Ewe Rock", "Baa Ha-haa!", "Ewe Rock", "unbaaa-lievable", "Happy Baaa'thday to ewe", "Sheep Shape", "have a few sheep thrills" and "Here's to Ewe", "Fabulous Ewe", "I love ewe", "herd you had a birthday", "Curl Power", and "I wool always love you". No wool over your eyes, this is a great set!
Call us gull-ible, but we love our Funny Farm sets! This Gull-Friends Set includes 12 clear stamps with coordinating dies, and 10 clear sentiments. The sentiments include "Who can wish you the happiest of birthdays? a pelican", "Shake your Tailfeathers", "beach chicken", "cele-birdy", "Gullfriend", "Ahoy there Birthday Gull", "Gulls just wanna have fun.", "Seas the Day", "Gull Power!" and "You go Gull", "Fabulous Ewe".
Welcome to our Challenge Feature for this Week!
Reneé has a "wooly" cute feature for our new release this week!
Hello Ai fans!
It's release day over at Art Impressions plus it's time for a new challenge!
I was lucky enough to get the the new Funny Farm Sheep set!
I absolutely love the Funny Farm collection from Ai!
If you love animals like I do you need to check them out.
Lately I've been really into rustic cards and I felt like this set was perfect for that style of card. Plus "rustic" goes perfectly with the Barn Dance challenge!
The set has many sentiments that compliment the adorable sheep.
I can't decide which one I love best.
I live in farm country so I can see myself getting TONS of "ewes" out of this set! Ha ha! I love puns so much!! Thank you Bonnie for this adorable new set!
Copics used:
R0000, R30, R85, W1, C0, T2
Y0000, Y19, Y23, Y38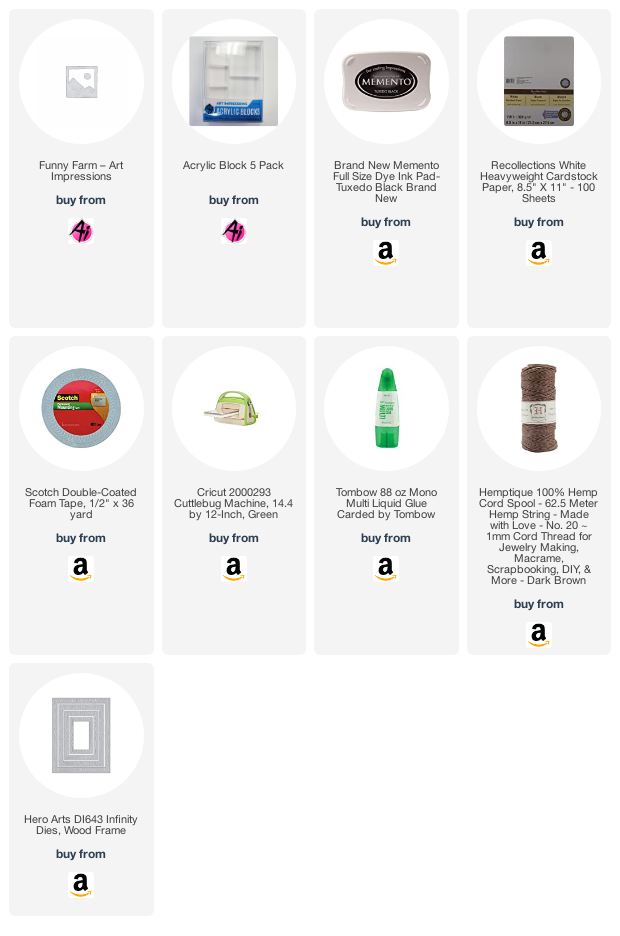 Inspired? Check out the challenge rules below, and enter your creation!
Before we get to this next challenge, we want to congratulate the winner of our
Congratulations to Jane Haurunen who used our Madge and created this funny homage to learning to be a Watercolor Artist!
Email claire@artimpressions.com with your choice of 3 stamp sets for your prize.
For this challenge, it's time to kick up your cowboy boots! Whether you love to use a rustic theme, or want to feature animals that hang out in the barnyard, we can't wait to see what your imagination creates!
There's a party in the barnyard and you're invited! Join and create your Barn or Rustic themed card! Though you can use any stamps you have, we'd love to see any Art Impressions products in your collection.
Hurry, challenge closes Wednesday, May 5th at 12PM PT!
Here are the Challenge Rules...
✻ Please make a new card or creation. You can make any crafty item you wish; this is not limited to cards!
✻ Limit two submissions per person. You will receive extra votes if you use Art Impressions stamps!
✻ The Ai Challenge is open to everyone, international submissions are welcome!
✻ Include a link back to the Ai Blog or grab our button on the top right of our sidebar!
✻ Share the Ai love by clicking and commenting your fellow crafters.
✻ Make sure to get your link up by the deadline to enter your creations.
✻ Good luck and happy stamping!
This week, Bonnie continued her series using small 2" x 2" square images! You won't want to miss this great series, and Part 1 is available on Facebook or YouTube!
Updated lists of supplies for ALL of our live videos are posted
HERE
!
Want to know when to watch next? Check out our Live Video calendar below.