Hello, Ai Fans!
Our newest Watercolor Release is here!
This week we have FOUR new sets for you, each one as beautiful as the last! Our
Large Birdhouse Set is the feature this week, but we are also releasing our
Large Cabin Set
,
Mini-Cabins Set
, and
Large Shop Set
. These structures add character to any watercolor project you are working on, and give rustic ambience to every scene-scape.
Stay tuned for an additional Watercolor Release next Week!!
You can shop these new sets at
artimpressions.com
Dot from our Watercolor Design Team has created a beautiful exclusive for this new release!!
Greetings!
I am in love with all of the new release items from Art Impressions and today I am showing you a card made with the brand new 5261 - WC Large Birdhouse Set. It has two beautiful birdhouses along with three new birds.
I stamped the cat from the 4873 - WC Cats Set inked in 969 first, then made a mask and covered it before stamping the birdhouse, after inking it with the 979 then the 565.
I pulled the color out of the lines of the birdhouse and cat then watercolored the cat in N45. I used a fine tip black marker to darken the eyes, ears and areas of the cat.
I watercolored the birdhouse with 407 and darkened the windows and made the shaded areas with my dirty (mixed with 969) 565 Tombow marker. I stamped the flowers from the 5008 - WC Flower Set 3 inked in 177 and 725 then touched them with a wet brush.
I wanted to add another color so I used the fine tip end of the 993 to dot each flower and dabbed at them with a wet brush again. I stamped the grasses from the 5007 inked in 177 then watercolored the ground with the 177 off the palette. Next, I stamped the blue cardinal from the 5261 - WC Large Birdhouse Set onto the roof, using the stamp positioner, inked in 969. I watercolored him with 526 and used the fine tip marker to draw the line under his beak and to darken his eye.
Thank you for checking out my blog!
You can find more of my cards on my Instagram account
here
.
Next up, see what Tricia has created with our Large Cabin Set!
I am so excited to be a part of the Art Impressions watercolor line new release party! The new watercolor stamps are so much fun. You are going to want to get them all, just like I did. I am a "NEED IT ALL" kinda girl. So prepare to be amazed by my teammates inspirational projects. I created a watercolor cabin heart card.
I used some of the new stamps and some classic stamps (that I use in most of my projects) for this project. First, I inked my Large Cabin set from the New Release with 969 and 569. I stamped it in the middle of my watercolor paper (the Canson watercolor paper that I use is 9x12 so I cut it 4.5 x 6 so I get 4 pieces). Using my damp brush (dip and pinch off the excess water) I pulled the color out of the lines by running my brush along the side of the stamped line. I added some additional color from my palette being careful not to paint the areas where the flower boxes are, so you leave room for the flowers.
I added some blue to my windows from my palette. I also added some 569 from my palette to the shutters and to darken some of the shadows. I added some 969 to the roof in layers leaving the top of the roof white.
To give the illusion of foliage behind the cabin, I masked off the bottom left of the cabin. I inked the bush from the original foliage set with 249 and stamped it several times to the left of the cabin using second generation stamping on the bushes in the back. I also added some bushes to the front and right side of the house and blended some into the foreground.
Next, I masked off the tops of my flower boxes and stamped the small grass using 249 into each of the flower boxes. I added some 569 from my palette and brushed some color along the bottom and left of the flower box to give it some dimension. I pulled the color out of the grass (up and out). I added water to this before I stamped my flowers so that my colors wouldn't mix (or I'd get brown – green + pink). I inked up the mini dots from the Mini Flowers set (I reach for this one a lot) with pink. I stamped it around the grasses and a little on the flower box. I added water to soften them.
To finish it off, I added yellow from my palette watered down so that it is light. I brushed it into the background behind the cabin. Finally, I signed and dated my work.
I know it can seem daunting but once you start you will LOVE it! Make sure you tag your projects with #AIWatercolor so we can see what you create!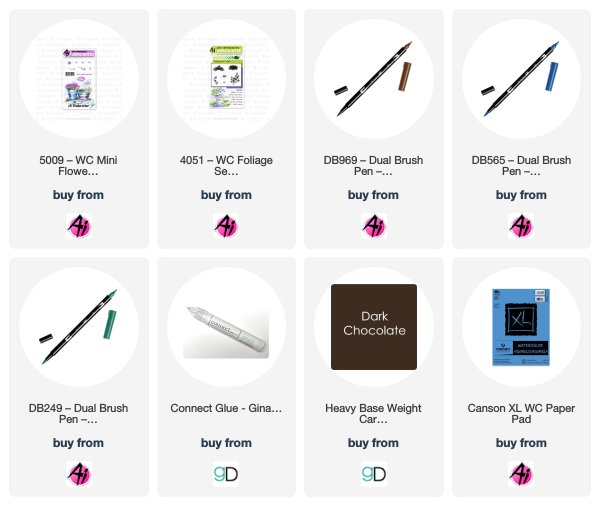 Now, as we transition into a new week, let's announce the winner of the
Movers & Shakers Challenge!!!
to create two darling, different color combinations using this interactive set.
Congrats Lynn!!!
Contact Claire at feedback@artimpressions.com with your mailing address, and choice of 3 stamps. Well done!
This week for our challenge, we want to see how architecture can add to your card creations! What can you "build" with a little creativity, some cute stamps, and thoughts of home? This is your chance to use your watercolor houses, a barn, a she-shed, a swing-set--the options are endless! If you're looking for some starter ideas, check out our
Cottage & Dies
,
Wonderful Watercolor
,
Houses
,
Circlets
, or
Critter Cubbies
on our
Pinterest Page
.
We want to see how you create cards that include a building, house, or structure! Though you can use any stamps you have, we'd love to see any Art Impressions products in your collection! Hurry, challenge closes March 11th at 5PM PT!
Need some inspiration?
Niccole from our Design Team has put together a special ADDITIONAL exclusive to get you started!
I am here today to share a really fun card using the Barnyard Animal Cubbies and WC Sentiment 2.
I wanted to think outside of the box for the
Home Sweet Home Challenge
, and what better way than
farm animals
and their home ... a
barn
.
I started by Copic coloring my barnyard animals and the barn. I then cut out my images with the coordinating dies. I set these aside to work on my background.
I started by using a Copic safe marker to make my hill and some of my grass. I filled in my grass with three different shades of Copic markers.
Once I was happy with my grass. As you can see there is a section where the grass looks like it isn't finished; that is because my barn is going so there no need to finish it. I wanted to work on my sunshine next. I used a light yellow
on the sky. I used a stencil along with a darker yellow for my sunshine to get my sun rays. I added my barn and the animals. I only used a little foam tape on one section of the fence to make it pop. I finished with the Home Sweet Home sentiment and a few sequins to give it a little sparkle.
Here is one more look at the finished card. Thank you so much for stopping by. Please make sure to play along with the challenge; you can win an awesome Ai prize.
C3, C5
E30, E33, E34, E37
G06, G46, G99
N4, N6
R11, R12, R24
W1, W3, W5
Y02, Y04
YR04, YR07
Until next time ... Hugs & inky fingers!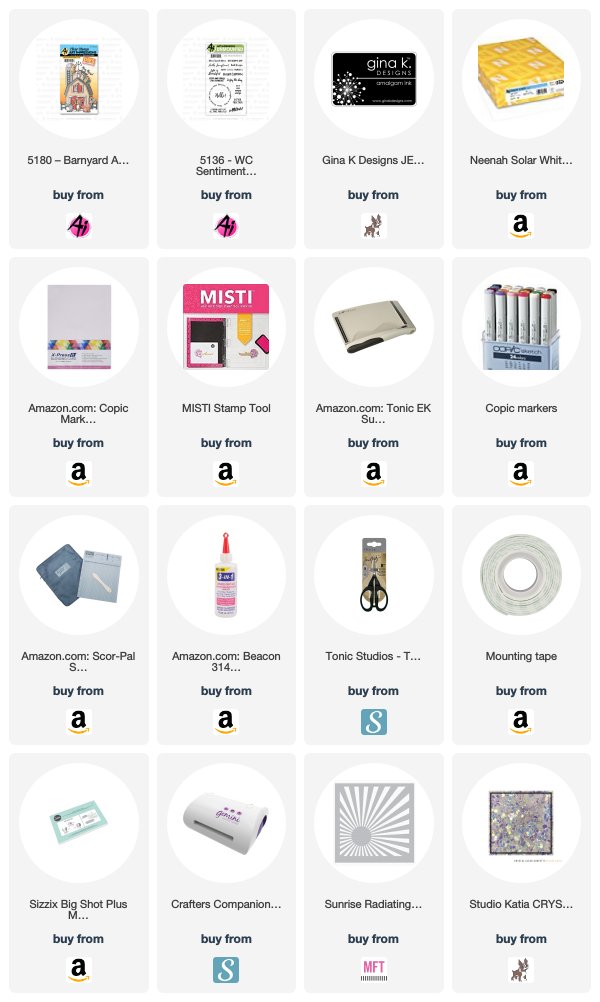 Here are the Challenge Rules...
✻ Please make a new card or creation. You can make any crafty item you wish; this is not limited to cards!
✻ Limit two submissions per person. You will receive extra votes if you use Art Impressions stamps!
✻ The Ai Challenge is open to everyone, international submissions are welcome!
✻ Include a link back to the Ai Blog or grab our button on the top right of our sidebar!
✻ Share the Ai love by clicking and commenting your fellow crafters.
✻ Make sure to get your link up by the deadline to enter your creations.
✻ Good luck and happy stamping!