IT'S A NEW CRITTER CUBBIES RELEASE!
For fans of these interactive sets, you are in for a treat!
Our new
Hen House Cubbies
are ready to "rase the roost"! T
his coop of cuties includes 11 images : Base hen house with doors and windows that open, as well as 7 different chickens, weathervane, eggshell, and wooden sign. These cute chicks include the sentiments "The Chick Inn", "The Hen House", "Farm Fresh Eggs", "Home Sweet Home", and "Fluffy Butt Hut" All of the images have coordinating dies except for the sentiments. Largest image of the hen house measures 4 1/2″ tall by 2 1/2″ wide.
Ready to "dive in" with our new Submarine Cubbies?
This aquatic set includes 12 images : Base submarine with window openings, as well as 8 undersea creatures including an octopus, dolphin, turtle, seahorse, lobster, crab, 2 fish, starfish, shell and bubbles. These wee watery buddies include the sentiments "Swimming by to say Hi", "Let the sea set you free", "I love you deeper than the ocean", and "Happy Birthday Let's Shellebrate". All of the images have coordinating dies except for the sentiments. Largest image of the submarine measures 4 1/2″ tall by 2 1/2″ wide.
While you're shopping, don't forget :
Today is the LAST DAY to get our
May Watercolor Throwbacks!
These sets will never be released again, so make sure you get your sets here!
Now, welcome to our Challenge Feature for this Week!
Tasha's talent came bubbling to the surface for this challenge!!
Hello Ai Fans!
It's time for a new Ai release and Challenge! Today I'm going to share two cards created with the fun new Submarine Cubbies Set!
My first card is an ink-blended slimline card perfect for any occasion.
All the images were stamped with hybrid ink and colored with Copic Markers. This set also includes the coordinating dies making it super easy to cut everything out. I also used stencils to create the scene and mixed waves, sun rays, and bubbles to really give a cool look to the background.
The second card is a standard A2 sized card and features a yellow submarine and a different mix of sea creatures. This set includes a variety of images, so you can mix and match to really customize your project.
The best part of the Cubbie sets are the pop-out areas that allow you to add your characters. In both cards, I added a little sea character to each opening and layered them in different ways to again customize my scenes. I could just play with the sets all day!
Lastly, I attached layers to each card and added white gel pen details before adhering them to the card base.
Thanks for stopping by today and taking a peek at the new Submarine Cubbies Set and be sure to check out the Under the Sea Challenge!
Have a wonderful day!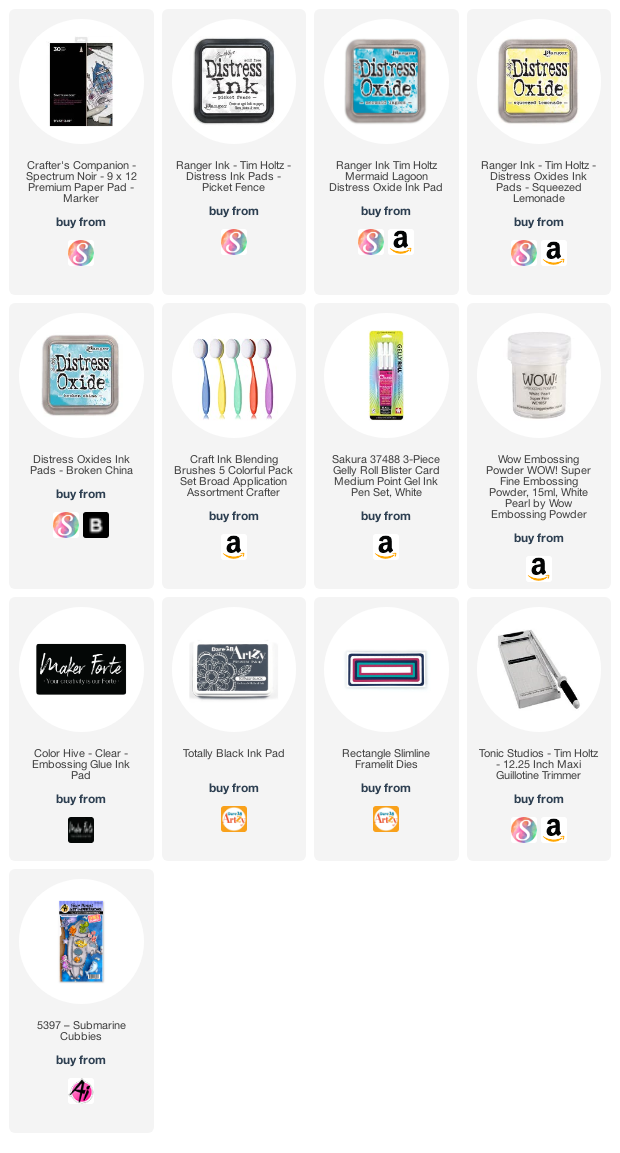 Inspired? Check out the challenge rules below, and enter your creation!
Before we get to this next challenge, we want to congratulate the winner of our
Email claire@artimpressions.com with your choice of 3 stamp sets for your prize.
For this challenge, the SEA is the limit! We want to see your nautical, oceanic, and water-based creations! In celebration of our Submarine Cubbies, use any undersea critters or characters that are up for a challenge.
Dive deep for this week's challenge! Though you can use any stamps you have, we'd love to see any Art Impressions products in your collection!
Hurry, challenge closes Wednesday, May 19th at 12PM PT!
Here are the Challenge Rules...
✻ Please make a new card or creation. You can make any crafty item you wish; this is not limited to cards!
✻ Limit two submissions per person. You will receive extra votes if you use Art Impressions stamps!
✻ The Ai Challenge is open to everyone, international submissions are welcome!
✻ Include a link back to the Ai Blog or grab our button on the top right of our sidebar!
✻ Share the Ai love by clicking and commenting your fellow crafters.
✻ Make sure to get your link up by the deadline to enter your creations.
✻ Good luck and happy stamping!
Updated lists of supplies for ALL of our live videos are posted
HERE
!
Want to know when to watch next? Check out our Live Video calendar below.