Hello Ai fans! We have a new challenge today and our first ever feature from MERCY! She's our newest Design Team member and we hope you love her as much as we do! Her challenge was Fun with Flowers!
We thought this would be fitting with Mother's Day rapidly approaching.


Before we get into our new challenge, let's announce the winners of our last challenge. Here are the Top Spot and our Lucky Random winner from our Here Comes Peter Cottontail.

Our Top Spot goes to: De Furey


Please contact Leah at Feedback@artimpressions.com
to claim a free stamp set of your choice!
Also, be sure to grab your badge to display on your blog, Facebook or Instagram!


Our lucky, random winner for our Here Comes Peter Cottontail challenge is:
Meghan Kennihan


Please contact Leah at Feedback@artimpressions.com
to claim a free stamp set of your choice!
Now that we've wrapped up our previous challenge, let's announce our new challenge!
Mercy created a STUNNING and bold floral card
using Joel's 5102 – Succulents Set.
Welcome Mercy, and take it away!
-----------------------------------------------------------------------------------------
Hello Ai Crafters, Mercy here.... With a New Challenge
Flower, Flowers and more flowers!
I must admit I usually do not explore the endless possibilities when it comes to flower scenes, so this challenge is perfect for me
The https://www.artimpressions.com/shop/succulents-set-5102/ is a great set which includes the dies. However, I didn't want any white outlines in my flowers.
I fussy cut the flowers, yes it takes time! but trust me, it was so worth it. The flowers look great against the embossed background.
I stamped the inside of the card and the envelope, making the whole thing become one.
If you are like me and tend to stay away from this style of cards, give it a try. I fully enjoyed the process of creating this card and will continue to explore this genre.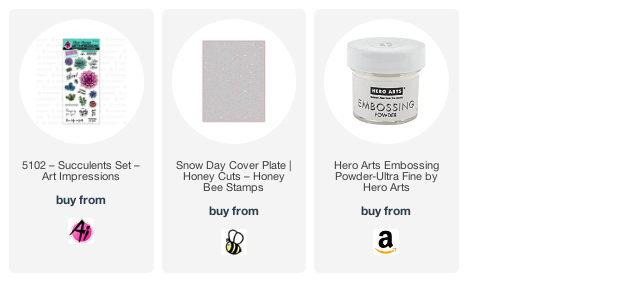 Thank you for your beautiful inspiration Mercy.
We look forward to seeing more of your work.

We have some other exiting news today. It's another release day!
Art Impressions just released the adorable #5502 Craft Bag and #5503 Tool Bag.

These new sets are so much fun and have so many possibilities.
Stay tuned for a cute card from Mercy combining the new Tool Bag and the Hats Off Mr. Set.
You won't want to miss it!


Here are the Challenge Rules...
✻ Please make a new card or creation. You can make any crafty item you wish; this is not limited to cards!
✻ Limit two submissions per person. You will receive extra votes if you use Art Impressions stamps!
✻Please include your first name and last initial on your submission.
✻We love to comment on your entries, but keep in mind if you use a private group or a platform that you need to sign up for, we probably won't be able to.
✻ The Ai Challenge is open to everyone, international submissions are welcome!
✻ Include a link back to the Ai Blog or grab our button on the top right of our sidebar!
✻ Share the Ai love if you can, by clicking and commenting on your fellow crafters.
✻ Make sure to get your link up by the deadline to enter your creations.
✻ Good luck and happy stamping!