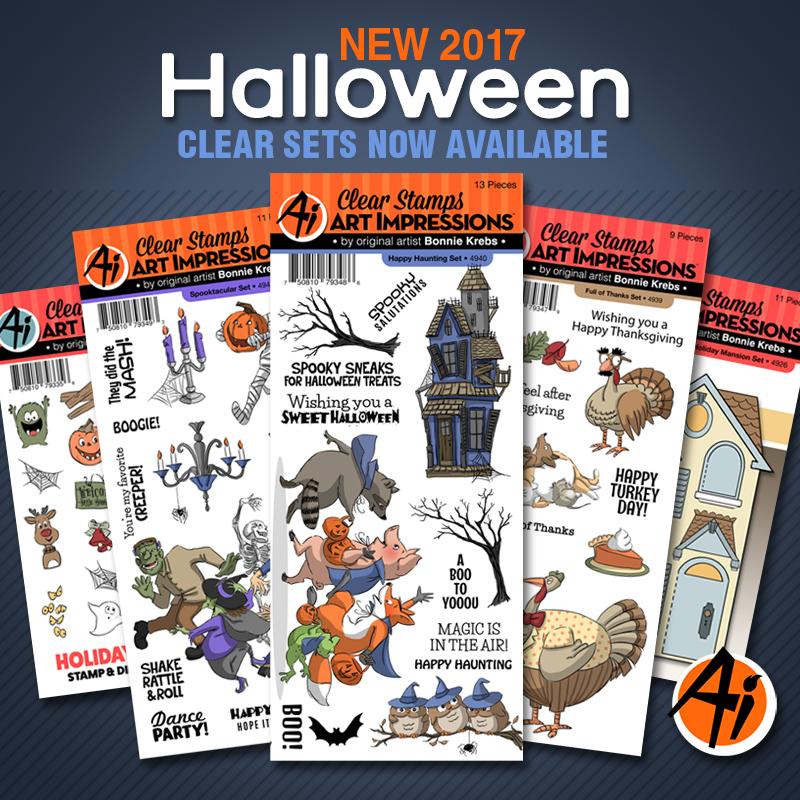 Boo! Scare up some fun with our NEW Halloween and Thanksgiving clear stamp sets! Packed with fresh, unique images and inventive sentiments, these stamps are perfect for your autumn greeting cards!
Happy Haunting
features a spooky mansion and a gang of trick-or-treating animals, while
Spooktacular
offers a mash of monsters ready to party! For Thanksgiving, our
Full of Thanks
set sends a humorous message with over-stuffed tummies and fully dressed turkeys! Finally, our
Holiday Mansion
stamp and die sets allows you to customize your house with shutters, and a door that swings open and close! Pair it with our
HM Accessories
stamp and die set to decorate your house for Halloween or Christmas, with items such as ghosts, pumpkins, wreaths and Santa!
Looking for inspiration? Check out not one but TWO videos from the Mixed Media Event to see these sets up close and personal! Plus, Karen is here to show a
wonderful shadowbox tutorial and to join our new challenge!
Today I am literally stepping outside the box! Halloween is definitely the occasion that is the most fun for me when it comes to cardmaking, and I knew that the Happy Haunting Set (Sku #4940) required something special. This set is just screaming for you to make a scene! I decided that I would learn how to make a shadow box card:
I started by cutting a circle mask from a post-it note, and used my Distress Inks to sponge a spooky night sky:
I cut two pieces of black cardstock 5" x 7", scoring at 1/2" and 2". On one of them I used a 4" square die to cut out a window:
Using some lime green cardstock, I cut three hillsides in graduated heights, and scored each of them 1/2" from each side to attach them to the walls of the shadow box:
I coloured up the haunted house and owls on a branch using my Copic markers (I'm all about bright and fun for Halloween, so that dictated my colour choices):
I trimmed the background panel to 5" square, stamped the tree and bat, and trimmed the highest hillside piece to fit on it and glued it all down. I joined the two black pieces together, folding on the score lines. The house is attached to the middle piece, which sits 3/4" in front of the back:
I glued it all together, added the owls and the lowest hillside to the front of the box, and here is the finished product:
I stamped one of the seven sentiments that is included with the set, and I (ahem) *may* be sneaking a peek of a not-yet-released product that will be available soon on the Ai website! (shhh...) I had a blast making my shadow box, it took a little longer than your typical card, but the end result was worth it - oh, and it folds perfectly flat for mailing! Happy stamping!
Wow, Karen! Love this shadowbox card! Your rolling hills and beautiful colors makes for a perfect introduction to our new "Off Kilter" challenge!
This challenge is about turning your cards on its side! We want to see how you can mix things up by making cards that are a little off kilter, such as tilting your panels instead of using 90 degree angles. You can use curved lines like Karen or go for a more geometric look! Halloween images are not required, but we would love to see you show off your favorite Art Impressions stamps!
Here are the Challenge Rules:
✻ Please make a new card or creation. You can make any crafty item you wish; this is not limited to cards!
✻ Limit two submissions per person. You will receive extra votes if you use Art Impressions stamps!
✻ The Ai Challenge is open to everyone, international submissions are welcome!
✻ Include a link back to the Ai Blog or grab our button on the top right of our sidebar!
✻ Share the Ai love by clicking and commenting your fellow crafters.
✻ Make sure to get your link up by Wednesday, September 13 at 5:00 p.m. PST to enter your creations.
✻ Good luck and happy stamping!
Time to announce the winners from
last week's Orange and Purple challenge!
Top Spot goes to...
Irene Rhodes!
My Feet
die cut to create a window to show your bright orange monster behind! Also, how fun to transform him from Halloween to birthday with sentiments from
Birthday Wishes
! Email annelise@artimpressions.com with your address to claim your prize pack!
Honorable Mentions go to...
Congrats, you two! We love your orange and purple halloween cards, with such stunning coloring! EK, your clean and simple approach made your coloring POP in our
Trick or Treat Set
! And Milene, how did you create such a wonderfully spooky mood with your watercoloring on our
Haunted House TF
? Please email annelise@artimpressions.com with your address and let us know what stamp set you would like for your prize!
Thank you to everyone who entered! We hope you and your friends will join us with our new Off Kilter challenge! Happy Stamping!