Happy Summer, Ai Fans!
Welcome to a NEW challenge! Carol's here with a sweet creation to inspire your challenge entries! Take it away, Carol!
Hello Ai Fans!
Are you enjoying your summer? Where I'm at it's too hot to do much outside! I'd love to be at a beach and the Loungers Set - 4473 was perfect for this new challenge: Summer Vibes!
Here's something I like to do--when I remember! Haha! After I first stamp the image using my MISTI, I leave the stamp in place. When I am finished coloring, I put my card back in the MISTI. Because I'm SO afraid, after all my work, it may not be lined up perfectly, I then stamp onto a piece of acetate. I can then make any tiny adjustments to the alignment so that it stamps over it perfectly. I just keep re-stamping until it lines up exactly right. I do this because sometimes with highly detailed stamps, I feel like the Memento ink isn't as crisp as the Onyx Black. I think re-stamping the image with Onyx Black ink really makes the image pop! I hope that makes sense!
For embellishments, I added a sun die cut and some tiny lemon slices, along with some Glossy Accents and sparkle with a Spectrum Noir clear sparkle pen.

I just love this sentiment! I wish that it didn't take getting older to feel this way, but for me, it did! How about you?
Thank you for stopping by today, and we sure hope you'll join in our Summer Vibes challenge!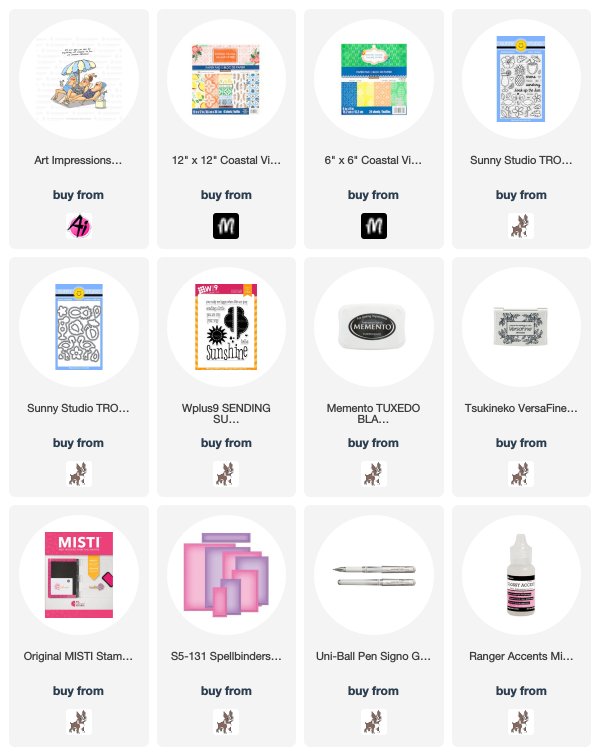 Thanks, Carol! We sure love your vibrant beach card! Too cute!
Our challenges run for TWO weeks, so you have 14 days to get crafting! We LOVE seeing your creations with your unique style, so "choose to be fabulous" and join our challenge! This challenge is all about summer, and feel free to interpret it as you wish, whether that's bright colors, summery stamps or papers, happy weather, and more!
Here are the Challenge Rules
✻ Please make a new card or creation. You can make any crafty item you wish; this is not limited to cards!
✻ Limit two submissions per person. You will receive extra votes if you use Art Impressions stamps!
✻ The Ai Challenge is open to everyone, international submissions are welcome!
✻ Include a link back to the Ai Blog or grab our button on the top right of our sidebar!
✻ Share the Ai love by clicking and commenting your fellow crafters.
✻ Make sure to get your link up by Wednesday, August 1 at 5:00 p.m. PST to enter your creations.
✻ Good luck and happy stamping!
Masculine Challenge!
Top spot goes to...
Congrats, Katrin! We love your wonderful watercolor scene featuring our
WC Truck Mini Set
with lovely rustic colors and bright greens. Email annelise@artimpressions.com with your address to claim your prize pack!
Honorable Mentions go to...
Congrats, you two! Gail, we think your camper card is just too clever! Our fishermen look great
Catching Z's
before their next venture to the lake! And Lynn, the coloring on the
Buzzard
is just stellar! Email annelise@artimpressions.com with your address and select a stamp set of your choice to enjoy as a prize!
See you for more challenge inspiration next week!
Happy Stamping!