Hello, Ai Fans!
Share a chuckle with our NEW
Laugh Lines
clear sets! Our
Never Too Old
set contains 10 hilarious phrases perfect for birthdays, including a sassy lady with a balloon! Our
Birthday Laugh Lines
set features an oldie guy, packed with witty sentiments! These sets prove, "You're never too old to do goofy things!" Our final release this spring is our
Succulents Set
, designed by our graphic designer, Joel Krebs! Filled with floral images, Joel created this set for easy layering, as these succulents can be die cut and popped up to make lovely arrangements. Hear more about these sets in our video from Creativation! Find these sets at
artimpressions.com
today!


Our wonderful designer, Carol, is here with a project and inspiration for our NEW challenge!


Hello Ai Fans!
You're never too old to do goofy things! LOL! That's my motto and I'm sticking to it! When I first saw this Birthday Laugh Lines set this old guy just made me laugh! I'm using this set for our new challenge Desktop Decor!
I have to be honest and say that this challenge really stumped me for a while! I did some Pinterest browsing and saw something similar to this notepad holder. I decided to make a card and notepad holder combo.
I stamped the man with Copic safe ink and colored him with the Copic markers listed below. I fussy cut it out and added some thin foam tape to the back and Diamond Glaze to the balloon. While that dried, I worked on the card and the notecard. For the card, I stamped the sentiment in Versafine Onyx Black onto an A2 card base. I heat set it with clear embossing powder. The beige striped paper is sadly retired. I added a leftover strip of the teal paper with the striped.
Remove the twine, and you have the inside of the card to write your personalized message. I stamped the Happy Birthday sentiment (one of 10 in this set!) inside. I inked up and stamped just the balloon the man is holding and drew the string in a little longer.
For the notecard holder I created a file in Cricut Design Space. If you have a Cricut and Design Space, you can access this file by going to : https://design.cricut.com/#/design/150707000. I used some heavy double-sided cardstock from my stash. After I cut the pieces, I applied double-sided adhesive as shown in these photos (click on the photos to enlarge). I also used some thick chipboard I saved from packaging and cut it to fit the back of the notepad for extra stability. The double-sided adhesive ensures it all stays put!
Here are the measurements of the notepad holder I made. If you are creating this by hand, make two of these and score where indicated.
This notepad inside here is just a very inexpensive one I picked up at Walmart. I thought a To Do list would be fun to go with the sentiment of "doing goofy things"!
By folding back the top cover, the notepad will stand up.
I was wishing I had some thin magnets to hold the flap closed, but I like the wrapped twine. It's a light tan originally, but I used the chisel end of my E35 Copic to color it to coordinate better.
I can't wait to see what you create for the Desktop Decor challenge! Thank you for stopping by!
Copic markers:
E000, E11, E25, E30, E53, E55, E57, E59
BG13, BG32, BG57, R11, RV21
Y02, Y08, Y11, C0, C1, C3, W1, W5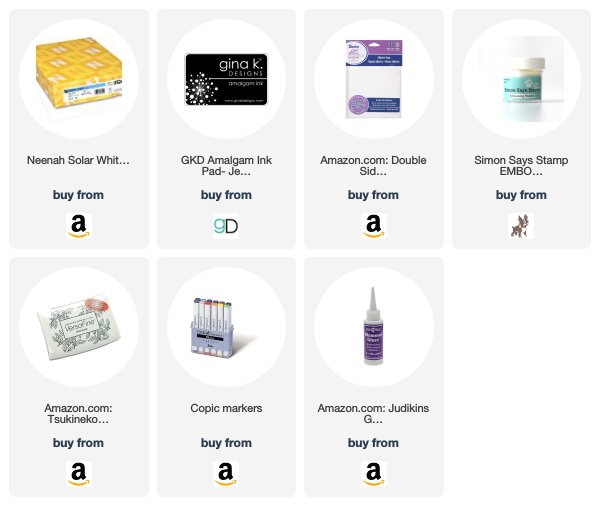 What a cute desk notepad, Carol! This is perfect for our next challenge...
This 2-week long challenge is called "Desktop Decor" and the possibilities are endless! Notepads, clipboards, calendars, sweet notes to make you smile as you work... what will you come up with? We can't wait to see!
Here are the Challenge Rules:
✻ Please make a new card or creation. You can make any crafty item you wish; this is not limited to cards!
✻ Limit two submissions per person. You will receive extra votes if you use Art Impressions stamps!
✻ The Ai Challenge is open to everyone, international submissions are welcome!
✻ Include a link back to the Ai Blog or grab our button on the top right of our sidebar!
✻ Share the Ai love by clicking and commenting your fellow crafters.
✻ Make sure to get your link up by Wednesday, June 19 at 5:00 p.m. PST to enter your creations.
✻ Good luck and happy stamping!
Before we go, let's check out the winners of last week's
Furry Friends
challenge!
Top Spot goes to...
Carina!
Congrats, Carina! We love how you went the extra mile with your cute shaker card featuring our
Hedgehog
and
Sloth-some
sets! Email annelise@artimpressions.com with your address to claim your prize pack!
Honorable mentions go to...
Beverly!
Irene!
Congrats, you two! Bev, we love your sunny
Cat Mouthful
card with that fun "catpuccino" sentiment! And Irene, your purrthday card is adorable too, with a pleathora of cats! Email annelise@artimpressions.com with your address and stamp set choice for your prize!
We hope y'all can join us again for our new desktop decor challenge for a chance to win some stamps!
Happy Stamping!