Hello, Ai Fans!
Can you believe we're already halfway through July?!
This week we have a special note from our graphic designer, Joel Krebs!
Hi from the behind-the-scenes graphic designer!
I'm Joel and I am the son of Bonnie and Phil, the husband to my beautiful wife Deborah, and the father of my three girls Eden, Faith, and Gloria (Just born in May of this year). I have been involved with Ai for the past 13 years and am so blessed to have grown up around and now part of the family business! I get to share an office with my dad which is good because we ALWAYS stay on task…right dad?
My favorite part of designing for Ai is showcasing and highlighting my mom's incredible designs. I have found myself telling her "I think this is the best stuff we've put out" only to reiterate the same thing with the following year. She is always coming up with new innovative ideas and I am so impressed and inspired by her.
I have been blessed with the opportunity to design our catalogs, flyers, advertising, packaging, and dies. Typically, twice a year, we will release new product and it's my job to showcase our unique designs in a creative way. When I design, I try to remember to keep a clear and concise message while not distracting from our stamps and die images themselves. When I'm not designing, I'm attempting to solve complex IT problems that my coworkers assume I know the answers to. Claire, I'm talking to you... :-)
Also, when we're not having a pandemic, some of you might recognize me from managing our cross-country trade-show booths for our retail shows. I get to work with the talented Ai Watercolor experts like Georgia and my sister/bestie Kendra!
From our beautiful hand crafted watercolor stamping, to hilarious 'punny' characters, to our cutesy interactive cards that you just can't keep your hands off of, we have quite the variety of products and truly offer something for everyone. I thank God daily for my talented, wonderful, creative family and this position he's blessed me with. I can honestly say, we would not be where we are today without His love and compassion. He continues to bless us… all Glory to God.
Now...
For our new challenge this week, Sharon joins us with a twinkle in her eye and this week's feature!
Hello AI Fans!!
It's time for a new challenge and time for you to sparkle and shine!! I absolutely love this stamp from the Golden Oldies line from Art Impressions!! It's

T3468 Jump In

! I pretty much have to use it at least once each summer for a card! And this year, I was able to grab the fun sentiment from the

Be Happy Stamp set

cause I thought it went perfectly with this image!
I started out by making my water waves using a stencil and some distress oxide ink.
From there, I took a cloud template and created the sky over the waves.
I colored up the image and then fussy cut it with my scissors. Has anyone else ever noticed how easy Art Impressions images are to fussy cut? Love it!!

I added some sparkle to the card by using Diamond Stickles on the wave crests, her swimsuit and cap, and even to her flippers!
I'm a girl that LOVES dimension, so I added some foam tape to the back of the image so they would sit up off the card.
Next I stamped the sentiment from the Be Happy stamp set and then used the double stitched rectangle dies to cut it out. I hand cut a mat around the sentiment and popped it up off the card with some foam tape as well.
And that's it!! I just love the joy that this couple exudes!! Hope you're able to get your happy on this summer!!
Hope to see your sparkle and shine creation!! Thanks so much for stopping by for a visit today and until next time - stay safe, stay healthy, and stay crafty!!
hugs
copics used:
E000, E00, E11
RV04, RV06, RV09
Y35, Y38
R22, R24, R27, R29
G14, G17
B000
YR02, YR04, YR07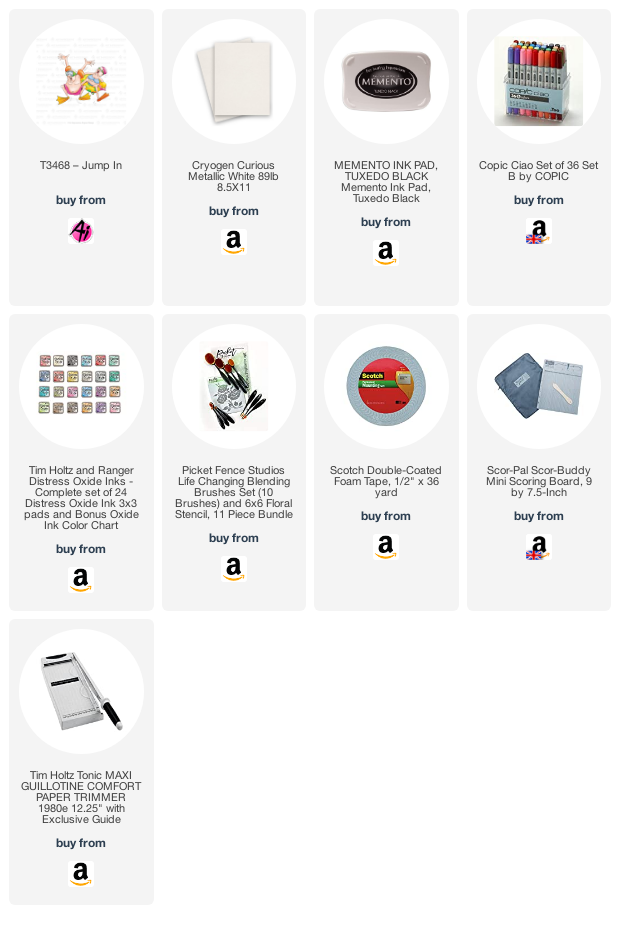 Thank you Sharon!
Now, as we get ready for another new challenge, let's congratulate the winner of our
Rustic Roundup Challenge!!!
Thank you all for participating and bringing joy to each of our challenges!
This week,
Top Spot
goes to
De Lois
who used our new
Desert Set
for this festive and rustic watercolor card. Such a beautiful composition!
Congrats De Lois!!
Contact Claire at feedback@artimpressions.com with your mailing address, and choice of 3 stamps. Well done!
This week for our new challenge, we are ready to see your creativity shine! Use your metallic embossing, sequin embellishments, Wink of Stella Pen, glitter paper--the sky is the limit!!!
We want to see how you create your best sparkly, shiny card or creation! Though you can use any stamps you have, we'd love to see any Art Impressions products in your collection!
Hurry, challenge closes July 29th at 5PM PT!


Here are the Challenge Rules...
✻ Please make a new card or creation. You can make any crafty item you wish; this is not limited to cards!
✻ Limit two submissions per person. You will receive extra votes if you use Art Impressions stamps!
✻ The Ai Challenge is open to everyone, international submissions are welcome!
✻ Include a link back to the Ai Blog or grab our button on the top right of our sidebar!
✻ Share the Ai love by clicking and commenting your fellow crafters.
✻ Make sure to get your link up by the deadline to enter your creations.
✻ Good luck and happy stamping!
Thank you to everyone who joined us yesterday on Wednesday Live with Bonnie!
Don't forget, you can always watch the videos after they air here :
If you want to know what products Bonnie used in our most recent video, please check out our supplies list here :
See you next week for our Watercolor Wednesday on YouTube!