You've waited patiently, and it's finally here!
We are so excited to introduce our 5 new Art Impressions Bible Journaling Sets!
This release we have two new border sets, a Rugged Tree, and a new series-- Mini Accents!
Our two new border sets include our
Grape Border
and
Lily Border
. These two borders are perfect for Bible Journaling, but also work beautifully to accent any project you can think of!
Next, we have our
Rugged Tree Set
! This rustic and bare tree is ready for any foliage or branches that you want to use. Another versatile addition for Watercolor pieces!
Finally, the NEW
Mini Accents 1
&
Mini Accents 2
! These sets include darling miniature images that are perfectly sized to highlight your favorite Bible verse in Bible Journaling, or accent any card or image you've created.
These tiny images measure around 3/4".
You can shop these sets

here

!
For our new challenge this week, we have a triple feature! Dot, Karen, and Tricia from our Watercolor Design Team have been hard at work for this beautiful new release!

Hello,
I made this card with the brand new 5375 Grape Border stamp set.
It's so fun to color the grapes!



I used my Misti and inked up the leaves first with the Tombow 177. After cleaning the stamp set, I inked up just the grapes and then re-stamped it a couple of times to get a good amount of the 909 on the grapes. I pulled the color out of the lines then added the 177 on the palette and added more green to the leaves. I used 055 on the palette to add that yellow to the edges of the leaves. I touched the creases of the grapes with the tip of the 909 pen to darken the grapes but I left some white on the grapes, also.

I then used the Misti to stamp the gate from the 5067 after inking it in 565 then 969 and stamping it off on scratch paper. I pulled the color out of the lines then added the "grape vines" from the 4867 Foliage Set 2 inked in 177. I pulled the color out and then stamped the dots (grapes) from the 5074 Bible Flower set inked in the 909. I dabbed at them with a wet brush tip. I painted in the gate leaving some white areas with the N45. I added some of it around the stones on the path, as well.

I stamped the grass from the 4051 Foliage Set 1 inked in 177 and then pulled the color up and out. I added the little flowers also from the 5074 Bible Flower set inked in 055. The sky is 526. Lastly, I stamped the banner from the 5202 Scroll Set inked in 969 then pulled the color out of the lines. I added some of the 526 in areas and some 565 where the paper rolls under. I stamped the sentiment from that same scroll set inked in Archival black ink. I thought this would make a great Thanksgiving card. Hope you give it a try!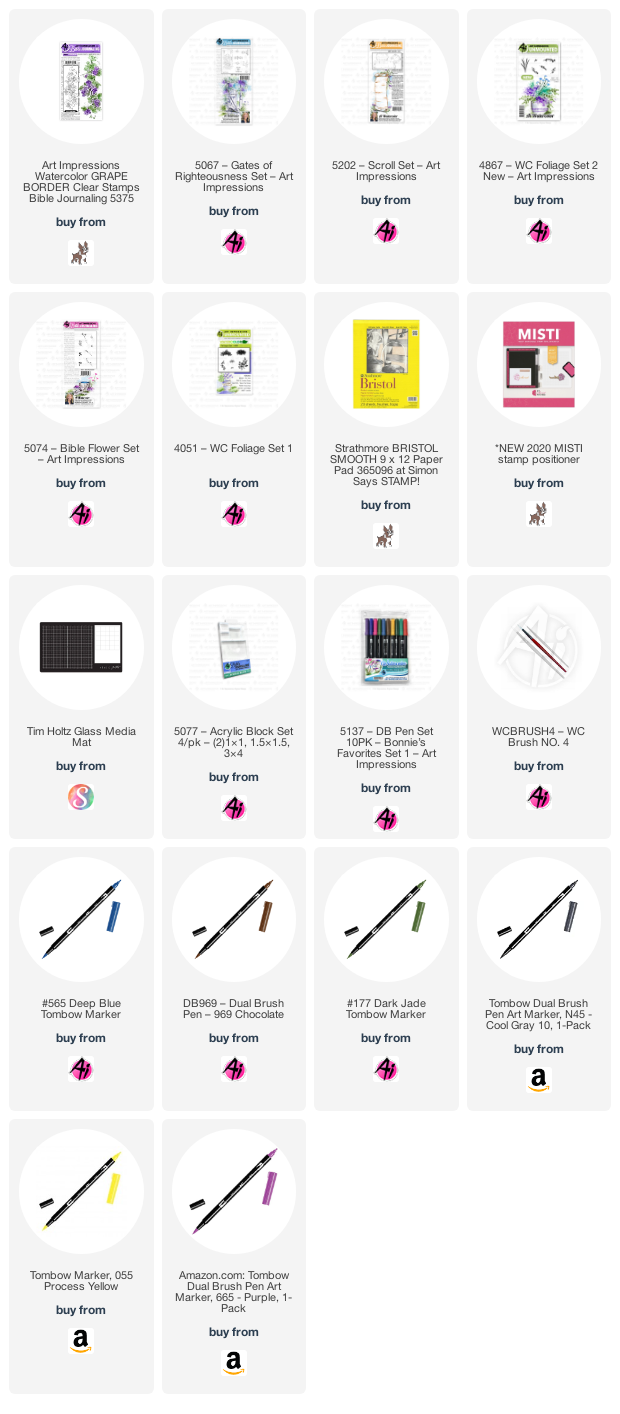 Karen used the new Grape Border as well as our Bookmark Die for a fun gift tag on a bottle of wine. Make sure you visit her blog for more details on how to make this beautiful creation yourself!
Tricia used our new Bible Journaling Rugged Tree, paired with our Stone Creek Scene and Large Snowflake Dies for a winter wonderland card! Stop by her blog to find more details!
Scroll below to see the full challenge, and enter to win 3 stamp sets!!!
Before we introduce our new challenge, let's congratulate our winner of the Surprise! Challenge,
Ginger McNally!!!
She used her watercolor stamps to create her own pop-up card--isn't it darling?!
Email claire@artimpressions.com with your choice of 3 stamp sets for your prize.
We're pushing this challenge to the edge! We want to see your own beautiful, fun, creative creation using a border of any kind! Use Mini-Dies, Watercolors, or any of your border stamps!
We want to see how you create your own Bordered card! Though you can use any stamps you have, we'd love to see any Art Impressions products in your collection!
Hurry, challenge closes Wednesday, November 24th at 5PM PT!


Here are the Challenge Rules...
✻ Please make a new card or creation. You can make any crafty item you wish; this is not limited to cards!
✻ Limit two submissions per person. You will receive extra votes if you use Art Impressions stamps!
✻ The Ai Challenge is open to everyone, international submissions are welcome!
✻ Include a link back to the Ai Blog or grab our button on the top right of our sidebar!
✻ Share the Ai love by clicking and commenting your fellow crafters.
✻ Make sure to get your link up by the deadline to enter your creations.
✻ Good luck and happy stamping!
Join Bonnie on YouTube as she creates a bright Christmas card with a southwest twist!