Christmas is just around the corner, and we don't know about you, but we still have some shopping to do!
These gift certificates never expire, and whether you want a little something in your own stocking, or a filler for your newest Gift Card Holder, this is a great deal!
You can shop these sets

here

!
Now, a feature from our Design Team Member Bri!!
Hello Ai Fans!
Today I am sharing my snuggly creations for the Reasons for the Seasons Challenge! My projects feature the Chubby Snowmen stamp set where they are showcasing one of my favorite Reasons for the Season: warm family hugs! This card is also featured on my personal blog today, check it out here!
My projects were fairly easy to throw together since I used holiday themed scrapbook paper for the backgrounds. The sentiments were stamped in pigment black ink onto scraps of white cardstock. For more details on how I created the individual cards keep reading below.
For this card I wanted to create a super simple snowy scene. First, I matted snowflake themed paper from the Crystal Blues paper pad to create a snowy background. Next, I die cut a stitched hillside from plain white cardstock to create the snow covered ground. I added shadows to the snow with my Copic Sketch markers. The colors I used to color the snowman and his tree are listed below.
For my second card I used a 4" x 5 1/4" piece of plaid cardstock for the background that coordinated with the clothes on the snowman and bird. I matted the plaid cardstock with solid black cardstock and glue them to the card base. I used the Banner Double Stitched dies to cut the sentiment banner. I also cut a piece of vellum with the Square Double Stitched dies to mute the busy background behind the snowman image. The Copic colors I used to color the image are listed below.
Check back next week for more Ai inspiration made by me!
Copic Markers I Used
Grays: W4, W2, W0, W00, C9, C7, C5, C3, C1, C00
Browns: E57, E55, E53, E1
Reds: R59, R39, R37, R35, R32, R30, R11, R17
Greens: YG61, YG63, YG67, YG11, YG13, YG17
Blues: B39, B37, B34, B32, B00, B04
Yellows: Y21, Y11, Y15
Orange: YR12, YR16, YR23, YR24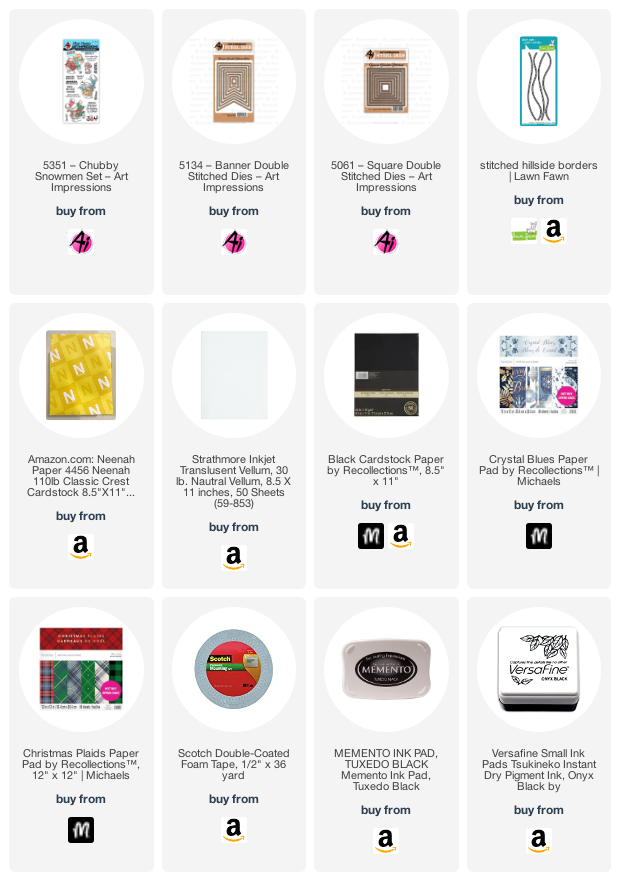 Inspired? Check below for how to enter to win 3 stamp sets!
Before we get to this next challenge, we want to congratulate the winner of our
Email claire@artimpressions.com with your choice of 3 stamp sets for your prize.
Santa Claus is coming to town, and so has our annual Christmas Cardmaking Challenge! We want to see you create a card that celebrates your favorite part of this holiday season.
We want to see how you create your best Christmas Card! Though you can use any stamps you have, we'd love to see any Art Impressions products in your collection!
Hurry, challenge closes Friday, December 18th at 5PM PT!


Here are the Challenge Rules...
✻ Please make a new card or creation. You can make any crafty item you wish; this is not limited to cards!
✻ Limit two submissions per person. You will receive extra votes if you use Art Impressions stamps!
✻ The Ai Challenge is open to everyone, international submissions are welcome!
✻ Include a link back to the Ai Blog or grab our button on the top right of our sidebar!
✻ Share the Ai love by clicking and commenting your fellow crafters.
✻ Make sure to get your link up by the deadline to enter your creations.
✻ Good luck and happy stamping!
Happy Stamping!