We had so much fun with our Watercolor Throwbacks last week! Isn't it fun to get to bring back some of the classics to try out? For those who missed it, never fear, we will have a new Watercolor Throwbacks with Kendra on the 1st Tuesday of every month!
If you missed last week, you are welcome to join us on February 2nd!
Reminder to those wanting to apply, tomorrow is the last day of our 2021 Design Team Call!!
We are looking for:
Passionate stampers with a love for Ai designs.
Great coloring and stamp techniques. Watercolor stamping experience is a plus!
Fabulous card coordination (ex. color combos, layers, accents).
Creative and self-motivated designers.
Friendly folks who love email communication.
Requirements:
Must have an active blog and be connected with online communities.
Willing to submit to publications.
Create a weekly Ai blog post and Feature Post on a rotating schedule.
Create 2-3 monthly challenge examples for our card contest.
Comment on card contest entries.
Must be willing to post on social media.
Mail-in 10 monthly cards to Ai.
Benefits:
$75 monthly coupon to our online store.
30% off any additional orders above monthly allowance.
Additional stamps for promotions and new launches.
Bonus crafting products for special assignments.
Regulations:
6-month minimum requirement.
All card designs use 99% Ai stamps.
+++++

If you are interested in joining the Ai Design Team, email Claire (claire@artimpressions.com). Please put "AiDT 2021 + Your Name" in the subject line of your email and include the following information:
Your name and mailing address.
Links to your blog and any online galleries you have.
Samples/Photos of at least 5 projects of varying styles.
Social media links –
Facebook
,
Pinterest
,
Twitter
,
Instagram
, Shop, etc.
A list of recent publications and any related links.
Your previous or current DT experience with other companies.
Applications are due Friday, January 22nd at 5:00 p.m. PST.
Second round applicants will be contacted via email by Friday, January 29th.
Due to shipping restrictions, applicants must live in North America. 2 positions are available.
Any questions can be directed to claire@artimpressions.com.
Good luck!
Welcome to our Challenge Feature for this Week!
Lynn has a fun and creative celebration project for our new card-making challenge!
Happy Wednesday Ai Fans!!!
In today's card and video will will be creating this fun feline "Let's Pawty" Card! This card is inspired by the current Art Impressions Blog Challenge which is to create a celebratory card for the 300th challenge!!!
We will be using the brand new and super cute Feline Set (5369). This set has many cute feline images as well as some fun sentiments and the best part is that the dies are included!!!!
To set the scene for these two mischievous little kitties, we will be creating a beautiful sky and grassy border using the two newest Tim Holtz Distress Oxide Inks in Crackling Campfire and Rustic Wilderness! We will also mix up our stamp and die sets to create a fun "Pawty" scene for our feline friends!
Watch the video tutorial below!
Thank you so much for joining me today! Have a great day!
Zig Clean Color Real Brush Pens used:
Blender, Yellow, Scarlet Red, Lt Pink, Lt Green, Deep Green, Violet, Oatmeal, Dk Oatmeal, Brick Beige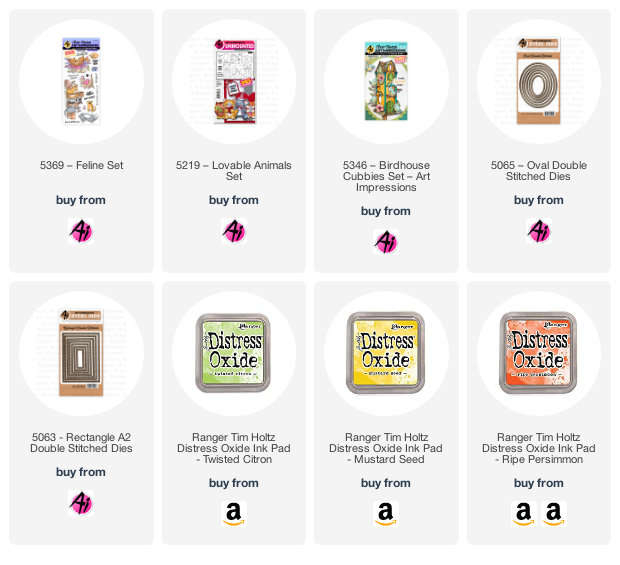 Inspired? Check out the challenge rules below, and enter your creation!
Before we get to this next challenge, we want to congratulate the winner of our
Email claire@artimpressions.com with your choice of 3 stamp sets for your prize.
For this challenge, we are celebrating our 300th CHALLENGE!!! Show us how you celebrate with your own card, bookmark, journaling page, or innovative stamping creation!
We want to see how you create a celebration in a card! Though you can use any stamps you have, we'd love to see any Art Impressions products in your collection!
Hurry, challenge closes Wednesday, February 3rd at 5PM PT!
Here are the Challenge Rules...
✻ Please make a new card or creation. You can make any crafty item you wish; this is not limited to cards!
✻ Limit two submissions per person. You will receive extra votes if you use Art Impressions stamps!
✻ The Ai Challenge is open to everyone, international submissions are welcome!
✻ Include a link back to the Ai Blog or grab our button on the top right of our sidebar!
✻ Share the Ai love by clicking and commenting your fellow crafters.
✻ Make sure to get your link up by the deadline to enter your creations.
✻ Good luck and happy stamping!
Thank you to everyone who joined us yesterday on Wednesday Live with Bonnie!
She created another beautiful project, this time featuring simple scenes, structures and our
WC Bridge Set, as well as posing a challenge with a fun prize!
Want to enter Bonnie's challenge? Click to enter below--submissions will be accepted through Tuesday, February 2nd!
Here is a link to the supplies you'll need for this project :
Don't forget, you can always watch the videos after they air here :
See you back next week with our usual Watercolor Wednesday on YouTube!