Hello, Ai Fans!
Our newest Funny Farm sets are sure to put a smile on your face today!
We are in LOVE with our Awesome Possum Set! This darling new addition to our Funny Farm line has quippy quotes and plenty of quirky marsupials that just can't wait to join your Ai collection!
You'll leap at the change to use this new
Frog Set
in your cards for birthdays, "Just Because" cards, and animal-themed projects!
Take a peek at this set on our website to see the "punny" sentiments and cute critters!
This week is Niccole's turn to have some fun with our
Possum Set
!
Hello!!
I am here to share a card for the Art Impressions

Animals & Nature Challenge.
I am using the new Possum Set. As you can see above I used the three possum swinging on a branch with the funny sentiment "Another Birthday? Hang in there."
I started by Copic coloring my possum image. I fussy cut it out and had a black die cut frame from a different project for my frame.
I framed my white card stock with my purple tape so that once my frame was added you would not be able to see my clouds that were stenciled on. I used some blue ink to emulate a cloudy sky for the swinging possum background.
These next few images are more hints to make things easier, well at least in my opinion :-) As you can see I taped down my four corners on top of my frame. This allows me to have the frame evenly spaced on my card base, and have my sentiment in the appropriate spot.
Now you can see my tape shifted positions ... why? Because now I have it laid out so once my foam tape is on my frame I can line it up and my frame will be in the correct place. Too many times have I had to peel up my frames for pieces because they weren't in place. So now I line up the top and the rest falls in place. You're welcome :-)
See how good my frame looks on my card base? It really does line up perfectly. It save time that is for sure. Try it ... all that's wasted is a tiny bit of tape. Press down your possum image and now just to finish it off with a few sequins.
Here is one more look at my finished card. I hope you have enjoyed my take on the Animals & Nature Challenge
. I had so much fun with this card. I will definitely be making more things with this set. Please
play along ... you could win a fabulous prize. Have a great day!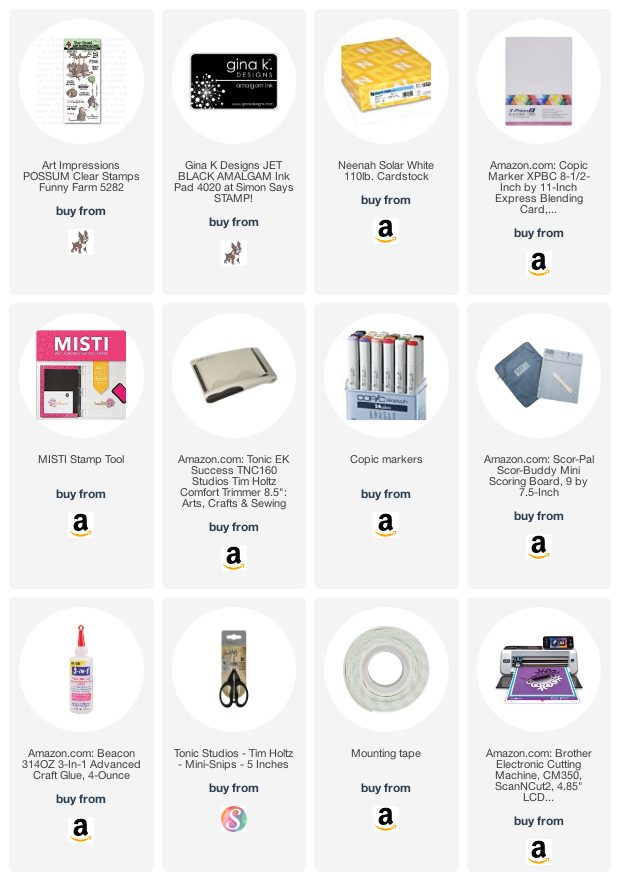 Thank you Niccole!
Now, as we get ready for another new challenge, let's congratulate the winner of our
All Layered Up Challenge!!!
Thank you all for participating and bringing joy to each of our challenges!
This week,
Top Spot
goes to
KraftyAunt
who used our
Congrats Krafty Aunt!!!
Contact Claire at feedback@artimpressions.com with your mailing address, and choice of 3 stamps. Well done!
This week for our new challenge, incorporate your favorite furry friends or flora and fauna!! Whether you use Animals, Nature or both, this time of year is the perfect moment to celebrate the natural blessings around us! If you're looking for some starter ideas, check out our
3D Projects
,
Circlets
,
Mini Try-folds
, or
Windows
on our
Pinterest Page
.
We want to see how you create your best animal or nature themed card! Though you can use any stamps you have, we'd love to see any Art Impressions products in your collection!
Hurry, challenge closes June 17th at 5PM PT!


Here are the Challenge Rules...
✻ Please make a new card or creation. You can make any crafty item you wish; this is not limited to cards!
✻ Limit two submissions per person. You will receive extra votes if you use Art Impressions stamps!
✻ The Ai Challenge is open to everyone, international submissions are welcome!
✻ Include a link back to the Ai Blog or grab our button on the top right of our sidebar!
✻ Share the Ai love by clicking and commenting your fellow crafters.
✻ Make sure to get your link up by the deadline to enter your creations.
✻ Good luck and happy stamping!
This week we debuted Wednesdays Live!
For those of you that tuned in, thank you!! This was such a great first video, and we can't wait for the great things to come.
Here are a few FAQ's that we received regarding these new live videos :
Q : I don't use Facebook, can I still watch?
A : Absolutely! No Facebook account is required to be able to view our videos live,
or after the fact.
Q : Where do I go to watch the live video?
A : You can go
HERE
, our Facebook page to view. We recommend that you bookmark this on your favorite web browser so you can find us quickly!
Q : Are Watercolor Wednesdays completely gone?!
A : Not at all! Watercolor Wednesdays will still be the 2nd and 4th Wednesday of each month. Our Wednesday Live! sessions will be the 1st and 3rd Wednesdays.
Q : My question didn't get answered during the video / I have a suggestion!
A : We love to hear from each and every one of you, and will try to answer all questions as soon as we are able to live! If your questions don't get answered, or you have a suggestion for Bonnie, you can also email feedback@artimpressions.com, or ask again on Facebook, and we will do our best to get you a quick and helpful answer.
Thank you all for your support, great questions, and we will see you next week with our Watercolor Wednesday on YouTube!