Hello Ai Fans!

It's time for our new challenge at Art Impressions!
We think you're going to like this one!
We call it Oceans of Fun!
Your project doesn't need to be ocean themed, just make sure it contains water.
This is perfect for both our regular stamp friends and our watercolor fans. You could have a lake, pond, stream, ocean...even a puddle or some rain on your card. Any water will do. (no, not a glass of water...lol) We love a play on words and Oceans of Fun sounds so much better than "projects with water." lol!




Before we get into Tasha's fabulous card let's look at our winners from our last challenge which was We "Heart" Hearts. Any project with a heart on it.
Our Top Spot goes to Bronna Sue for her LOVE card with a heart background.

Please contact Leah at Feedback@artimpressions.com
to claim a free stamp set of your choice!
Also, be sure to grab your badge to display on your blog, Facebook or Instagram!

Now for our lucky, random winner...
Sintang Mayumi
Please contact Leah at Feedback@artimpressions.com

to claim a free stamp set of your choice!
Now onto our wonderful Design Team feature from Tasha!
--------------------------------------------------------------------------------------------------------------------
Tasha here sharing a fun Ocean themed card created with the 5397-Submarine Cubbies Set!
The submarine and ocean creatures were stamped with black ink and colored with Copic Markers. I love all the cubbies on the Sub and the variety of cute ocean creatures to use in the scene!
You can use the sub alone and stamp the creatures directly on to the windows, but the included coordinating die set makes it so easy to cut out the stamped images and windows. I love the cubbies sets!
For the background, I used a stencil with an aquatic design and several shades of blue ink. I like to use bright colors on my projects and using a stencil is a great way to add tons of color! My favorite part is revealing the stenciled design.
Once the background was dry, I started to assemble the submarine. I used light blue glitter paper behind the cubbies and layered the ocean creatures around the
Sub
, they look so happy!
The sentiment "
Swimming By To Say Hi
" was stamped with a green ink and I used coordinating glitter paper to add more sparkle.
Lastly, I added some stamped bubbles and attached several glitter enamel dots to the background to complete the card.
I hope you enjoyed today's project and will participate in the Oceans of Fun Challenge!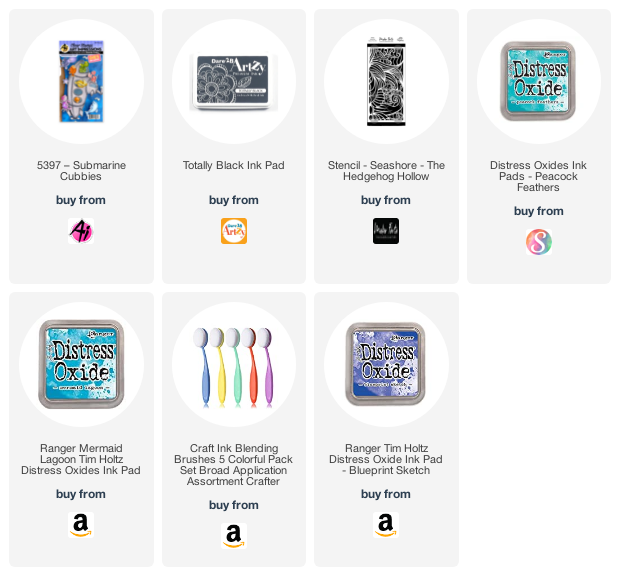 Tasha's card is just the absolute cutest!!
Thank you so much for the inspiration!
If you'd like to join our challenge for your chance to win a free
stamp set of your choice please enter below.
Crafty projects with water on them!
Here are the Challenge Rules...
✻ Please make a new card or creation. You can make any crafty item you wish; this is not limited to cards!
✻ Limit two submissions per person. You will receive extra votes if you use Art Impressions stamps!
* Please include first name and last initial on your submission.
✻ The Ai Challenge is open to everyone, international submissions are welcome!
✻ Include a link back to the Ai Blog or grab our button on the top right of our sidebar!
✻ Share the Ai love if you can by clicking and commenting your fellow crafters.
✻ Make sure to get your link up by the deadline to enter your creations.
✻ Good luck and happy stamping!



Oceans of Fun! Your project doesn't need to be ocean themed, just make sure it contains water. This is perfect for both our regular stamp friends and our watercolor fans. You could have a lake, pond, stream, ocean...even a puddle or some rain on your card. Any water will do. (no, not a glass of water...lol)