Hello Ai fans!
It's time for Watercolor Weekend and another amazing watercolor new release!
Our fabulous Watercolor Design Team are here to inspire you today.
You can find them all over our social media as well as their own.
This week we're kicking things off with Tricia.

New Release Watercolor Weekend! The new Southwest sets are here. I am so excited to share my Southwest Village card with you. It is so simple and would be a perfect masculine card. We all could use more of those.
I started out by inking the SW Village with 969 and 569 (on the roofs). I stamped it off and then stamped it to the bottom right of my watercolor paper. Using some post-it tape, I masked off the village while I inked the SW Simple Scene, also with 969 and 569 (on the rocks). I stamped it to the left of the village. It is pretty easy to line them up as they are both clear stamps.
I added water and pulled the color out of the lines and then added some 899 and 977 to my palette to add some color to the buildings and the rocks. For the foliage, I added some 177 randomly around the village. I wanted to have a really pretty soft sky, so I added some 636 and 565 to my palette and, using a lot of water, added color to the sky and water. I also added some to the rocks and roofs. As a quick accent, I added a cactus to the right of the village.
Thank you so much for stopping by today and I hope you go out and watercolor something special! Make sure you tag us so we can see your beautiful creations.
#aistamps
#watercolortheaiway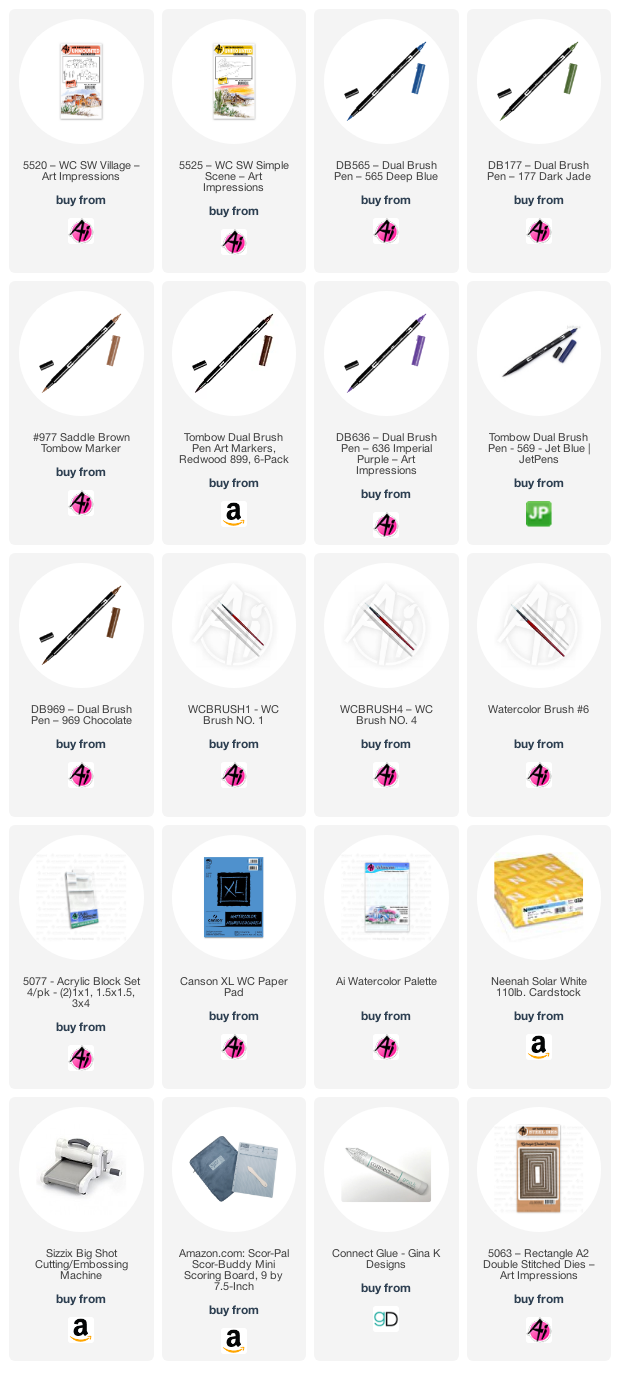 Next up we have Karen.
Hello Ai Watercolor fans!
Today I was inspired by all of the beautiful canyons in photos I've seen of Utah, where the rivers run through the striking scenery. Here is the new 5525 - WC SW Simple Scene:
I stamped all of my images in N57 (Warm Grey 5) onto my Canson XL Watercolor paper. Starting with the simple scene, and then using my Stamp Positioner, I added a mountain from 5198 - WC Mountain Set, the cacti from 5520 - WC SW Village and 5196 - WC Desert Set, then added rocks to the foreground from 5414 - WC Small Rocks Set. I added layers of colour to the rocks and ground using #947/992/969, and added shadows using #569/565. The sky and water were painted with #493, and the river was shaded with #565. I used #098/126/565 on the cacti, and finally added touches of #493 and a little #703 to brighten things up a little. The sentiment is from 5136 - WC Sentiment Set 2. I used the 5062 Rounded Rectangle dies, and mounted it to my base with some 3D foam adhesive, and added a few sparkly jems.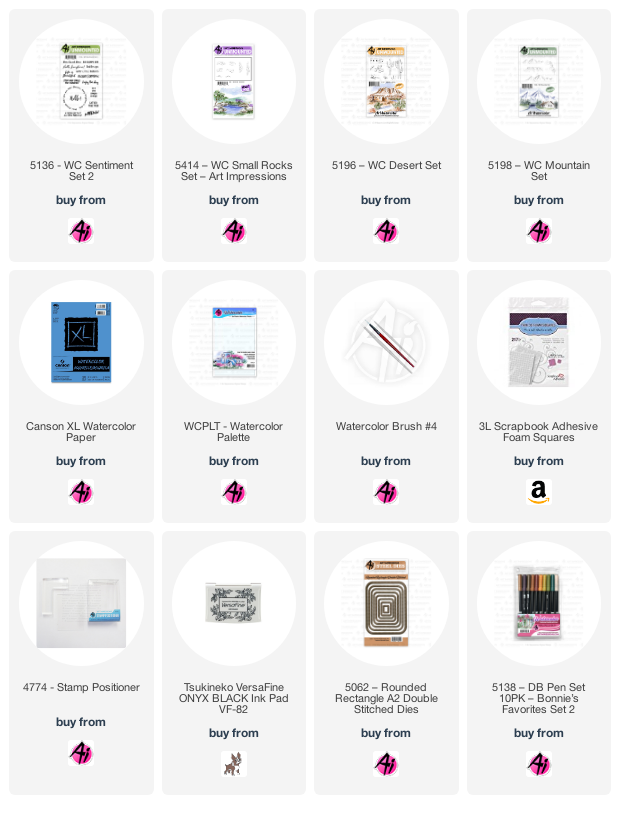 Finally, here is Dot's lovely creation.


Hello,
Have you seen the new 5520 SW Village Set? It's a must have! I used it along with the new 5525 SW Simple Scene to create this card.
I stamped the scene first after inking it in Tombow 969 and then in 565 and stamping off first. Next, I stamped the little village inked the same way. Then I stamped the cactus inked in 177. I pulled the color out of all the lines then added some 925, 969, 565, 947, & 177 on the palette to give the mountains, rocks, village and road some color. I mixed a lot of the colors and tried to make the right facing sides darker on all of the houses. I used 249 to darken areas of the cactus. The foliage is from the 5196 Desert Set inked in 026. The sky was colored in streaks of 555 and 569. I used the TwinTone fine point blue to darken the windows. I used both the blue and brown TwinTone fine points to put back some of the lines that were washed out. I used the 5062 Rounded Rectangle Dies to cut out the watercolor paper and background paper. Hope you give this a try!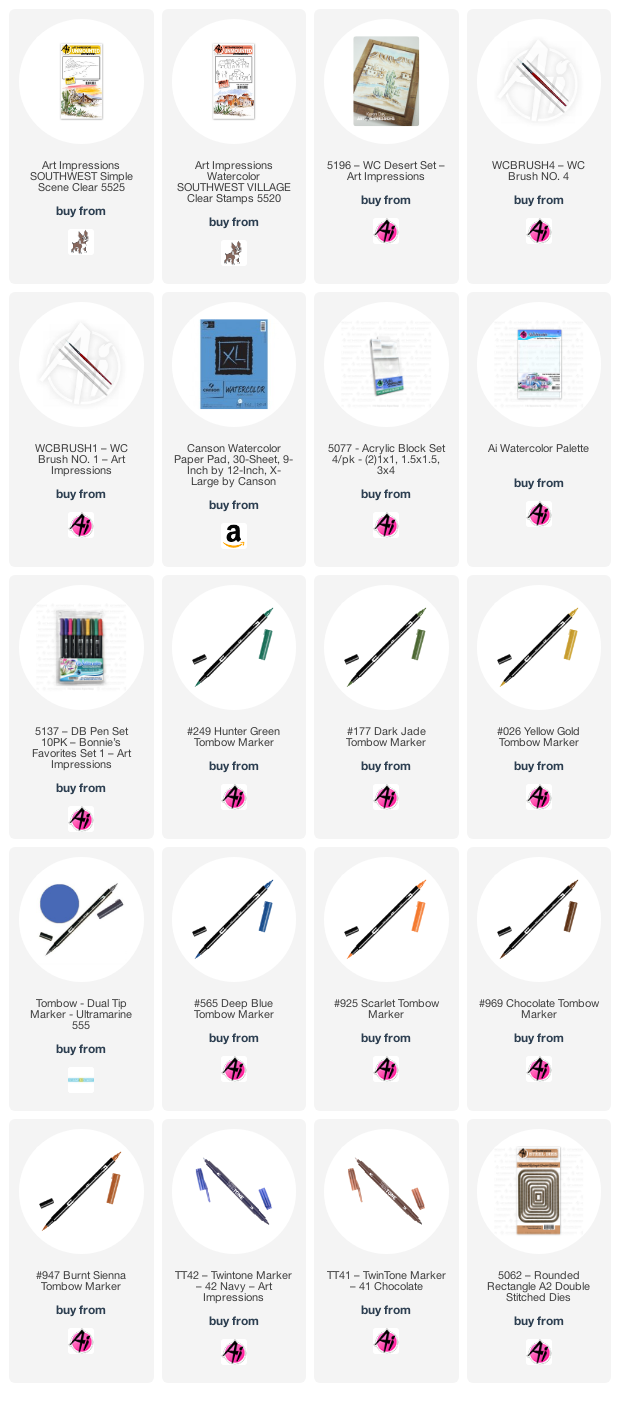 We hope you enjoyed this Watercolor Weekend! Be sure to join us next Saturday as well when we share even more new releases! You won't want to miss it.
Also, be sure to check out the Art Impressions website for your chance to sign up for in person watercolor classes and for info on the warehouse sale.
Have a great weekend and happy stamping!