We so appreciated all of you who celebrated our birthday with us this month! Your kind words, birthday sale orders, and challenge entries are all greatly appreciated! Ai Fans really are the best!
Top Spot goes to...
Congrats! Your use of the
Old Goats
simply adorable with your patterned paper and coordinated coloring! Email annelise@artimpressions.com with your address to claim your prize pack!
Honorable mentions go to...
Congrats, you two! Alli, your 80th Birthday card featuring our
Birthday Laugh Lines
is so energizing with your colorful sentiment background! And Andrea, your "short and to the point" birthday card with our
Hedgehogs Set
is darling! Email annelise@artimpressions.com to claim your prize pack!
It's time for a new challenge! This one is all about Animal Print, how fun is that?! Crystal has a tutorial to share for inspiration on our theme, let's take a look!
Hi Ai fans!
I love using stamps in different ways for this challenge Animal Prints I thought I would do some paper piecing and include some cow hide pattern paper as my animal print.
Since I was using cow hide animal print I used the Cowgirls Girlfriend set I though it would be a perfect match for cowhide. The Cowgirl set is one of my current favorite girlfriend stamp sets.
To start I stamped the image with Momento Black ink and I only colored in the part of the image that was not going to be covered with pattern paper, which was just the skin, hair and two of the friends boots.
I then stamped the image multiple times onto some different patterns of paper. I then fussy cut different pieces out.
I found it easiest to apply glue directly to the stamped image then place the pattern paper onto the full image. By using glue I had a little wiggle room to move the small piece around if I needed too. Once everything was adhered in place with glue I fussy cut the whole image out.
I die cut some pattern paper out to use as the background for the cowgirls. I stamped the sentiment "Have a boot scootin' two steppin' toe tappin' wild west birthday" onto a die cut tag with a dark brown ink. I adhered a couple of the layers with foam tape to add a little dimension to the card.
Once I had all of the layers adhered together I adhered the whole panel to a top folding 5 1/2" X 4 1/4" card base.
I look forward to seeing what every one else makes for this challenge.
Spectrum Noir Markers:
CR11, BT5, DG2, GT1, EB2, EB4, GY3, BO1, MB1, GB2, GB3, GB4, FS9
Happy Stamping!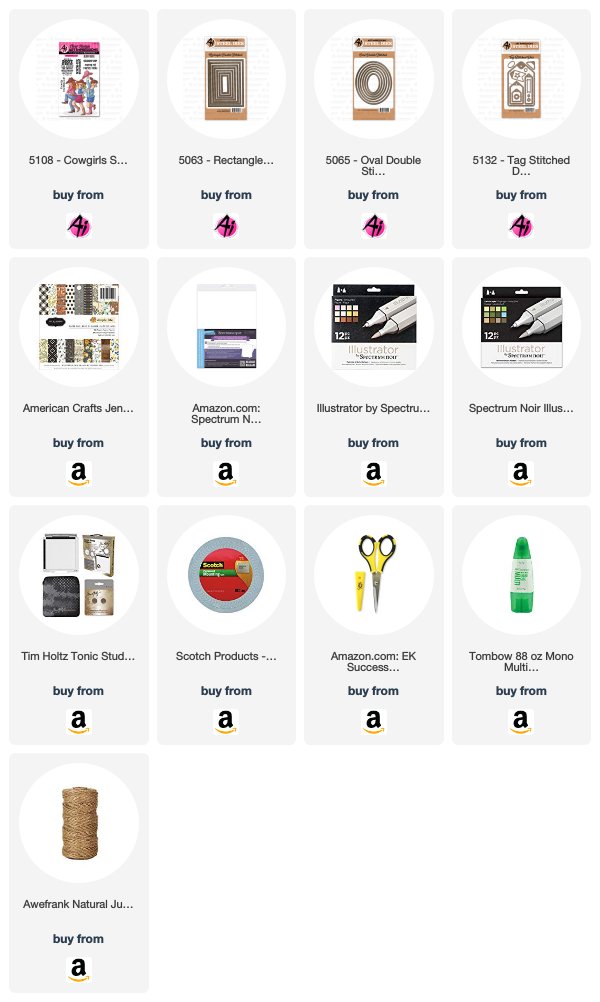 We want you to join our challenge! It's so fun to look through your unique creations! We pick a "Top Spot" entry for a mystery prize pack, and two "Honorable Mentions" to receive an Ai stamp set of their choice! Not a bad deal, right?? But you can't win if you don't enter, so let's see your projects!! Play along with our "Animal Print" theme and follow our rules to enter.

Here are the Challenge Rules...
✻ Please make a new card or creation. You can make any crafty item you wish; this is not limited to cards!
✻ Limit two submissions per person. You will receive extra votes if you use Art Impressions stamps!
✻ The Ai Challenge is open to everyone, international submissions are welcome!
✻ Include a link back to the Ai Blog or grab our button on the top right of our sidebar!
✻ Share the Ai love by clicking and commenting your fellow crafters.
✻ Make sure to get your link up by the deadline to enter your creations.
✻ Good luck and
happy stamping!