It's our first Watercolor Weekend in August and we have a trio of cards spanning seasons.
Tricia went winter, while Karen and Dot have summer scenes.

Take it away Tricia!
Welcome Back Watercolor Fans! I am so excited you decided to join us again for an all inspiring weekend. I chose to create a Christmas Magic Ornament card (still loving on these new images and the Christmas in July theme is OK with me to get a jump on my list.).
To begin, I used some awesome painters' tape that I got from Let's Make Art. I wish I had cut it down first, so I had the border around it, there's always next time. I painted the glass ornament and topper using Daniel Smith paints and Canson watercolor paper. Sandy Allnock inspired and taught me with her Watercolor glass ornament with Christmas berries tutorial on YouTube, go check it out! It is sooo easy! I added some post-it tape in the middle of the ornament, where I placed my image, to protect it while I painted.
Once it was completely dry, I broke out my Art Impressions NEW snowman stamp from the latest release. I inked just the top half of him with a couple of colors. First, I added 569 from his top hat to the top of his scarf only (not including his branches). I also added it to the bird. Next, I used my 969 and added that to the birds' legs, the branches, his jacket and the bottom half of his scarf and a small amount on his eyes, nose and mouth. I continued adding some to his hat. TIP: I wish I had rubbed some ink off where I placed the greenery on his hat, so it was more prominent, again next time! I stamped it off and stamped it in the middle of the ornament. I pulled the color out of the lines and added some additional color from my palette.
If you let each layer of color dry completely, you can build up some nice shadows. Did you know that complementary colors on the color wheel allow you to build nice shadows? For example, if you are using a red to color the scarf, you could layer in green to get some nice shadows. Remember, make sure your darkest colors are in the shadowed areas and you leave white space and highlights.
Well, once I again, I thank you for spending some of your weekend with me and the watercolor crew. Don't forget to check out Karen and Dots' projects. We love to see all of your wonderful watercolor projects and hope that you will come back next time! Have a crafty day!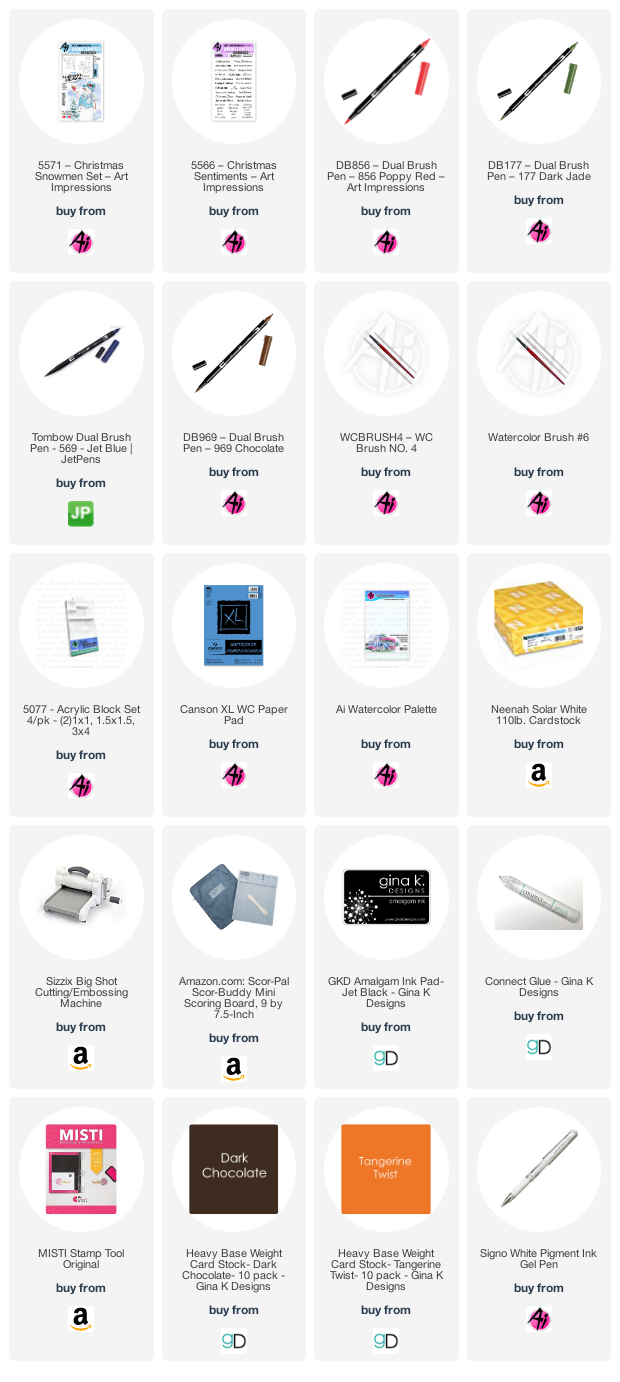 Hello Ai Watercolour fans!
I am sharing one of the newer released images from Art Impressions today, that will be on the Ai blog for the Watercolour Weekend this Saturday. Here is my take on 5520 - WC SW Village:
I stamped one of the images in the set on my Canson XL Watercolour paper, using #992, as I wanted a lighter image. With my stamp positioner, I added in the two mesa images from 5198 - WC Mountain Set, making the smaller one appear as though it was farther away. The cactus from 5196 - WC Desert Set was added to appear closer to the viewer, along with rocks from 5415 - WC Large Rocks Set. I used these colours from my palette to paint the buildings: 912, 993,761, 885, 991, 969. The cactus was painted with #228, #177 and #173. Layers of warm browns including #947 were painted on the mesas along with #565 as shadows. I used my #228 marker directly on the paper to add in some foliage, and I used my Navy Twintone marker to darken all the windows. #493 was painted in as the sky, and washes of brown were added to the ground. After mounting the image on brown cardstock, I spattered metallic gold paint on the edges of the card, and popped up the image with 3D adhesive.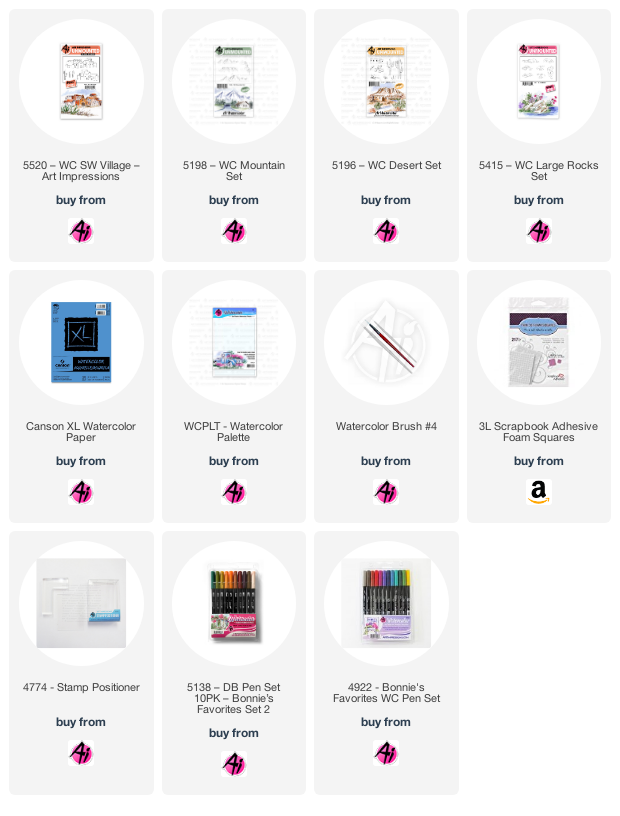 Hello,
I made this card for the Art Impressions Watercolor Weekend. I'm seeing fall stuff on Pinterest and wishing the summer was over since it's so hot here in Las Vegas but this card isn't exactly fall looking, right?
Anyway, I hope you want to give this one a go so if you do, stamp the mailbox from the brand new 5575 Mailbox Birdhouse set inked with Tombow N25 and stamped off once. Use the stamp positioner to stamp the owl from the 5425 Peeking Animals. Stamp the branch from the 4964 inked in 969 next to the mailbox then stamp the foliage from the 4051 Foliage Set inked in 837. Stamp the large grass from that same set inked in 027 and 158. Then stamp the flower from the 5475 Flower Set inked in 249 and 947. Use a pencil to draw an envelope poking out of the mailbox then color it with the 837. Color the owl with the 947, N25 and 969. Be sure to use the TwinTone black fine tip to darken the eyes. The sky is 526. The sentiment is from the 5455 Birthday Buggy Set. Cut it out with the 5063 Double Stitched Dies Set.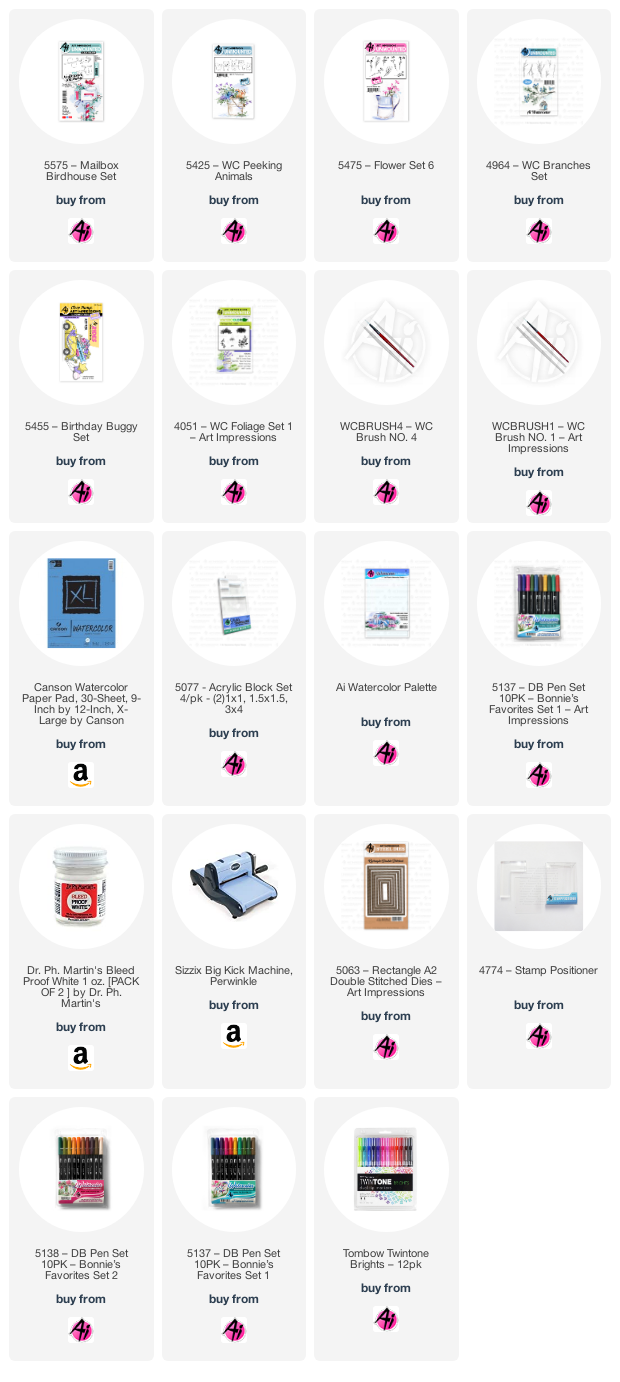 Thank you for joining us for our Watercolor Weekend.
Remember to #Artimpressions on Instagram if you make something so we can see it.


Have you seen the latest release on the Art Impressions website?
There are 4 new sets, 3 holiday clear and one winter Windows to the World.


Don't forget to check out Bonnie's Watercolor Wednesday Live videos on Facebook.


Happy Saturday and happy crafting!