Hello, Ai Fans!
Calling all Circlets Fans!!!
Have you taken a look at our newest Circlet Sets?
Our new Tropical Circlet has everyone yearning for warm sunshine. This set features two adirondack chairs lounging before a sunrise or sunset--depending on how you color it!
"The kettle's on, teacups are waiting, an afternoon with a friend anticipating" in our darling new
Tea Circlet
MTF set. This features a tea set, the adorable sentiment above, and can be used in so many ways!
This week Jil has a decadent design for us with her project featuring our
Tea Circlet
!
Hello Ai fans!
I used the New Tea Circlet stamp set. I am going to show you the steps involved in making this card. I also have pointers for lining up the three images for all Circlets. I hope you love the two New sets as much as I do.
I started by stamping all three images onto Spectrum Noir Ultra Smooth Cardstock with Gina K black Amalgam ink and colored them with Copic markers. I have the colors I used listed at the end of this post. I then cut the out with circle dies from We R Memory Keepers.
I cut three circles from the DCWV Garden Tea Party 12" x 12" papers using the same circle dies. I then used the We R Memory Keepers Lace Circle dies to cut out three lacy circles from cream cardstock.
I distressed all of the layers for the card with Tea Dye and Vintage Photo Distress ink.
I used the Circlet dies that come in the stamp set over two of the colored images and cut them out.
I then placed the cut top piece over the patterned paper circle and added the die to the cut opening. I traced the inside of the die with a pencil so I could see where I needed to place the die. I removed the colored layer and placed the die around the pencil marks and cut out the patterned paper layer.
I then did the previous two steps to cut out the base layer of the top panel. I glued all three layers together to form the top piece of the card.
I placed all of the middle layer where I want them and taped them together. I added the next die into the middle opening and traced around the second die. I took all of the layers apart and cut them the same way I did for the top layer.
I lined the bottom layer up and glued it in the right place.
I added two brads to the top of the bottom layer and one at the bottom of the top layer. You can look back at the main picture to see where they go. I didn't tighten up the brad too much. You want the layers to swivel.
Copic Colors Used:
Flowers - E51, R81, R85
Leaves - YG61, YG63, YG67
Vase - R00, R20, R21
Tea Bag - E50, E51, E55, E57
Tea Set - E50, E51, E55
Present - R81, R83, R85
Spoons - C0, C1, C3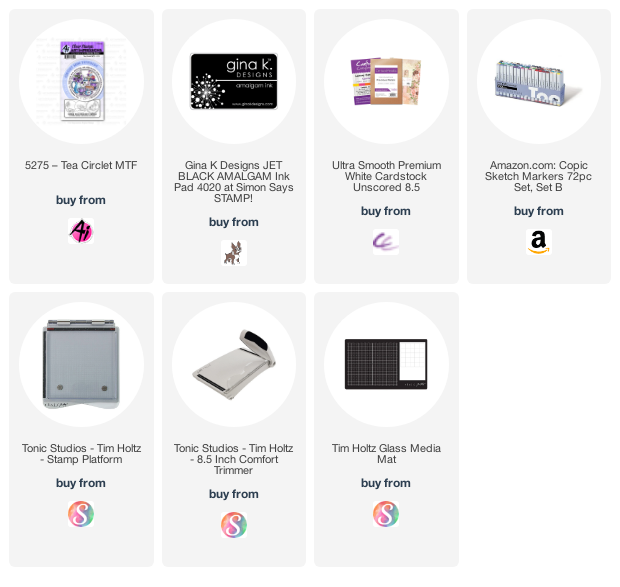 Thank you Jil!
Now, as we get ready for another new challenge, let's congratulate the winner of our
You're Invited Challenge!!!
Thank you all for participating and bringing joy to each of our challenges!
This week,
Top Spot
goes to
NanaConnie
who used our
Burnadette
for a darling birthday card...that might require a few safety measures!!
Congrats NanaConnie!!!
Contact Claire at feedback@artimpressions.com with your mailing address, and choice of 3 stamps. Well done!
This week for our new challenge, we want to see how each of you play with layers!! It can be so fun to add texture, depth, and make your creations pop using height. If you're looking for some starter ideas, check out our
3D Projects
,
Circlets
,
Mini Try-folds
, or
Windows
on our
Pinterest Page
.
We want to see how you create your best layered card! Though you can use any stamps you have, we'd love to see any Art Impressions products in your collection!
Hurry, challenge closes June 3rd at 5PM PT!


Here are the Challenge Rules...
✻ Please make a new card or creation. You can make any crafty item you wish; this is not limited to cards!
✻ Limit two submissions per person. You will receive extra votes if you use Art Impressions stamps!
✻ The Ai Challenge is open to everyone, international submissions are welcome!
✻ Include a link back to the Ai Blog or grab our button on the top right of our sidebar!
✻ Share the Ai love by clicking and commenting your fellow crafters.
✻ Make sure to get your link up by the deadline to enter your creations.
✻ Good luck and happy stamping!