Hello Ai fans!
We have a new challenge beginning today and you will LOVE it!!
Before we introduce our new challenge, let's announce the winners from our last challenge, Fun with Flowers.
For our Top Spot we've chosen #6 Sue K.
She made 4 cards using 5401 – Easter Chicks Set.

Please contact Leah at Feedback@artimpressions.com
to claim a free stamp set of your choice!
Also, be sure to grab your badge to display on your blog, Facebook or Instagram!


Our lucky, random winner for our Fun with Flowers challenge is:
#22 Leeanne D.
Please contact Leah at Feedback@artimpressions.com
to claim a free stamp set of your choice!
Now that we've wrapped up our previous challenge, let's announce our new challenge!



We're looking for creations that feature anything the floats, flies, etc. Balloons, birds, butterflies, airplanes, insects...anything up in the sky!
Lynn has an amazing, beautiful, butterfly card for your inspiration. We love her colors and her pops of gold.
Check out her wonderful video tutorial too!

-------------------------------------------------------------------------------------------------------------------------------------------
Hello Ai Fans and welcome to our new Blog Challenge!!!
Todays feature card was inspired by the current Ai Blog Challenge which is to create a project that features something that flies or floats....think birds, butterflies, airplanes, balloons, kites or anything else you can think up! Just have fun!
Watch video tutorial here!!!
We will be creating an elegant square butterfly card! Let's start with the beautiful butterflies from the Ai Butterfly Set (5200). We will be stamping and embossing these butterflies using a super fine detail white embossing powder. This will give our butterflies and elegant look! In todays video I will be showing you a simple and fun watercolor technique to color these butterflies by using our Distress Oxide Inks. Today we will be using the brand new Distress Oxide Ink in Saltwater Taffy along with some Picked Raspberry. These two colors will combine beautifully!
Next, with those two Distress Oxide ink colors we will do our background. To start, we will use some clear embossing ink with a gorgeous floral stencil and then apply that same super fine detail white embossing powder. Once the stenciling and embossing is done, we will then do some ink blending with our blending brushes.
For a bit more elegance we will add some pretty gold metallic layers and some delicate two-tone pearl gems!
I'll show you how to create a matching square envelope using an envelope punch board! I love coordinating a beautiful envelope to go with my card creation...and your friends and family will love it too! Just keep in mind that these square cards do cost a bit more for postage...but I plan on hand delivering mine to a special friend!
Please join us in our new Blog Challenge....we would love to see your creations!!!
Thank you so much for joining me today! Have a fun and crafty day!!!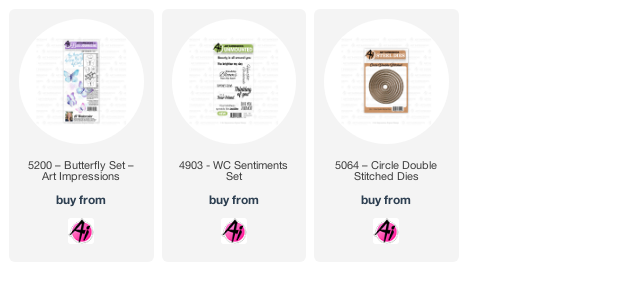 Besides our newest challenge there was also a wonderful new Watercolor release at Art Impressions yesterday. You can see all of the new Spring 2022 releases
here
and check out Bonnie's WC Wednesdays for a sneak preview of the new releases a day ahead of time!
Happy Stamping everyone!