Hello Ai fans and welcome to Watercolor Weekend!
Easter is JUST around the corner and our Design Team kept that in mind when they made their fabulous cards for this Watercolor Weekend.
We're starting things off with Diane's bright and cheery card.
It's "Eggs-tra Special!"
Hello Ai Watercolor fans and welcome to another Watercolor Weekend! One just never knows where inspiration may strike for a card. Last week while grocery shopping, I passed by the Easter candy display and front and center were the colorful Easter Peeps. (For the record I am not a fan of Peeps to eat, but I do think they look adorable). That's when inspiration for this card hit me. I thought it would be funny to have Peeps-colored chicks in front of a basket full of Peeps-colored Easter eggs. To add to the humor, I thought it would be funny to have a larger yellow chick peeping around the basket in surprise at seeing the colorful chicks!
This card does require a little masking, but nothing too difficult.
I started off by stamping the 3 chicks from 5737 – Bunny and Chicks Set onto masking paper and trimmed them out with scissors. I inked the chicks in Tombows 969/565, and stamped them onto my Canson XL Watercolor Paper. I placed the mask over the chicks and inked the basket from set 5739 – Birdhouse Village Set with 969/565 and stamped it back a bit from the chicks to make it appear to be behind them. I masked off the basket brim and handle edges with strips of Post-It Labeling Tape. I inked the pile of eggs stamp from set 5738 – Easter Egg House Set with 969/565 and stamped them into the basket. I moved the tape to cover the left edge of the basket and inked the large chick from 5737 with 969/565 and stamped the chick so it appeared to be peeping around the edge of the basket. After removing the masks, I pulled out the color with a damp brush to add shadows.
I used 025 to paint the large chick, leaving some areas lighter and darkened some areas by layering to add contours. I used 933 for all the chicks' beaks and legs. I used 743/606/515/025 for the Easter eggs. I made sure to leave highlighted areas on the eggs. I left the basket white and added shadows with a touch of 565. I used 515 for the bow and shaded the darker areas inside the bow with 565. For the 3 chicks I used 743/606/515. I painted in a wash of 528 for the sky. I placed the masks back on the chicks, basket, and eggs. I then inked the small flower from 5475 – WC Flower set 6 with 606 for the flower, 177 for the leaves and stem, and stamped the flowers. After removing the masks, I added the tiny grass stamp from 4051 – Foliage Set 1 with 177 then pulled out the color from the grass. I brushed in a bit of 177 to add ground and shadow in front of the basket and chicks. I darkened the eyes of the chicks with a black 01 Micron Pen. For any details that were missing, I added those back with a gray TwinTone marker.
I cut the patterned paper panel to fit an A2 sized card. The painting was die cut with 5061 – Square Double Stitched Dies and matted with yellow cardstock. I stamped and heat embossed the sentiment "Hope this Easter is eggs-tra special" in white onto yellow cardstock. Then I die cut the shape from 5543 – Journal Template Die Set and popped it up with foam squares. For the inside of the card, I adhered a strip of ½" patterned paper to create a border on the bottom edge. To finish off the card, I stamped the "Happy Easter to ALL MY PEEPS" sentiment from 5733 – Easter Sentiment Set in Dandelion Memento ink onto the card base.


If you enjoyed this card, be sure to check-out Kim Hein's Watercolor Wednesday (3/15/23) Facebook LIVE video on the Art Impressions Facebook Page. She also created an adorable Peeps scene. Until next time, Happy Painting!
This project changed up a bit from when Joel made this artwork for this ad but you can create whichever version you prefer. We're saying both are too cute to call a winner!
This wound up being her finished project.
You decide which you like best.

Next up is Tricia with her darling little girl that could be perfect for St. Patrick's Day, Easter or any Spring birthday or occasion.

Well happy March everyone and welcome back to Watercolor Weekend. I am again showcasing one of the New Release sets called Little Girl FB. I decided to go with St. Patty's day colors to create this Lucky Girl painting.
First, I started off by inking her up with 969 and then 569 to create a soft gray color. I stamped her off twice before I stamped her onto the watercolor paper. As always, pull the color out of the lines. I used my color cube to select the perfect colors.
I started with her basket of flowers. For the flowers in the basket, I inked the small leaves with 195 and stamped them along the top of the basket, leaving plenty of room for the flowers. I used the ribbon of small flowers from Flower Set 5 inked with 665. I kept adding additional color until I had some dark and light areas. Once it was dry, I used a white gel pen for the centers.
For the basket, I used 569 and 969 mixed on my palette. I added it to the basket making sure the edges are darker and blended toward the lighter highlight in the middle.
Next, I added some green to my palette and added it to her hat and dress. I used my fine tip to add the details onto her dress. I used a mixture of green, brown and blue to get the really dark colors under her hat brim. I also added some leaves to her hat. I masked her off and inked the tulips from Flower Set 6 with 743 and 245. I inked them several times around her. I added some 969 below her and the flowers to ground her. For the sky, I added 443 with a lot of water to her background. Once it was dry, I went in to darken some areas. I used my twin tone black to darken her eyes (added some lashes), nose and mouth. I finished it off with some multi-colored Kendra dots from Bible Foliage Set 2.
I used a sentiment from the Friend Sentiment set. I signed and dated my work. I cut her out with one of the Journal dies. I matted it and placed it on another mat made from the new Easter paper pack.

Our last sweet Easter card for this Watercolor Weekend comes to you from Karen, who is the Queen of sweet, soft pastels, gingham and plaid!
Hello Ai Watercolour fans!
Using Tombow Dual Brush markers #565/969, I stamped the 5739 - Birdhouse Village Set on my Canson XL Watercolour Paper, then added my bunny from 5737 Bunny & Chicks Set, a little lower so that he's looking up at the bird. I made sure to leave plenty of room for flowers, and started with the little circle of heart flowers from 4868 - WC Flower Set 2 using #993 and #725 to create the floral bunches, then used #933/158 to stamp the long stemmed flowers from the same set. Using the small sprig from 5009 - WC Mini Flower Set and #158, I tucked in foliage around and behind the flowers. After touching everything with a damp brush, I used my markers directly on the paper to add some darker shades to the flowers, and then added the small grass stamp from 4051 - WC Foliage Set in #173.
The birdhouses were painted in #565/933/173/407/725, in layers to build up the colours. The wood bases were painted in #969, and it was used along with #992 to paint the bunny, keeping the top of his head, ears and haunches lighter, and deeper tones were used on the parts that are further from the sun. The bird had a touch of #993 and 565 as his feathers, and finally a wash of #407 was painted as the sky. All areas that needed shadows were painted with #565. The scene was diecut with 5061 - Square Double Stitched dies, and the sentiment from 5734 Friends Sentiment Set was stamped in Versamark ink and diecut with 5132 Tag Stitched Dies.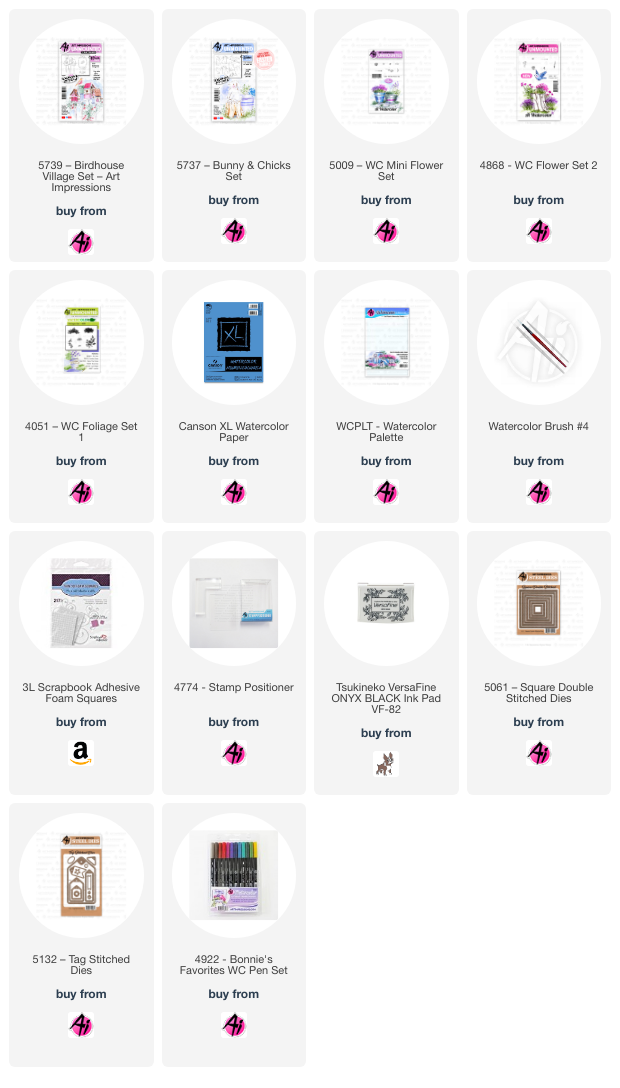 Well, that's it for this week and we hope you've enjoyed all of this Easter inspiration!
Whether you like bright colors, pastels or more jewel toned colors they have you covered.
They shared baskets and birdhouses and flowers galore. We love every last one of their cards and hope you do too!
We'll see you again on April 1st when
Karen Day
will be filling in for me. No, lol, this is not an April Fool's Day joke. I'll be on vacation and Karen has graciously agreed to step in and share the Watercolor Weekend post for that week. We know how much you all love her and know she'll bring you all the same inspiration that I'm able to share with you each time, courtesy of this amazing DT!!
I'll see you again soon.