Hello Ai fans!
Today we begin a new challenge...
Let's Hear it for the Boys!
We just ended our Buttons and Bows challenge and we have a Top Spot and a Lucky Random Winner to announce.
For our Top Spot we selected
Debbie Hedges
!
She created a stunning floral arrangement in a pot using a beautiful color palette.
Please contact Leah at Feedback@artimpressions.com
to claim a free stamp set of your choice!
Also, be sure to grab your badge to display on your blog, Facebook or Instagram!
Our Lucky Random Winner was
Liz W.
Please contact Leah at Feedback@artimpressions.com
to claim a free stamp set of your choice!
Also, be sure to grab your badge to display on your blog, Facebook or Instagram!


Congratulations to our two winners! Now on to our fabulous Design Team feature!


---------------------------------------------------------------------------------------------------------------------------------------------
Hello Ai fans, I am so excited you are joining us today as we announce a new challenge; All for Boys!! This challenge inspired me so much and I can't wait to share with you my projects.
I created a fun card for these cute campers searching for the Birthday Cake :) I used Ole Buck Set and stamped these curious campers and colored them with Copic markers then cut with my mini scissors all around the image.
For the background, I used a Camping paper collection that has camp scenes cards and then backed the campers image with foam tape and attached it to the background. I also grounded the scene with a strip of dark brown paper.
To brighten the card a little bit, I added multiple scraps of colored cardstock behind, yellow, orange then navy.
I used alphabet stickers to add the same sentiment that was in the stamp set "Is that Cake"? :)
I also embellished the card with enamel dots that matched the card colors.
They are so cute :)
I then created an adorable interactive puppy card using the cute Doggy Kisses Set. The set has this adorable puppy that has, almost all his body, wrapped with gauze.
I stamped the puppy twice and colored it with same colors. Cut the back of the puppy from one of them, and cut the front of the other.
I used a pastel aqua background, cut it using Ai Double stitched slimline dies.
For the interactive element I used a pull tab slider die to create a path for the front of the puppy to slide through, I then thread the slider tab through the path opening and glued the front of the puppy on it so when the tab is pulled out the front of the puppy slides with it.
I glued the other puppy, that has the back only, directly to the background with its body overlapping the other puppy image.so when the front of the puppy is pulled out it would look like the dog is becoming longer. I attached a band aid image where the overlapping of both the puppy images show to cover the cut.
I then added a strip of brown floor below the puppy and die cut the pull tab notch so it is easier to pull out.
I stamped the sentiment that's included in the set on a white cardstock and die cut around it with Ai double stitched banners and attached it with foam tape to my card. I also used the smallest banner from the Banner set and a banner from Ai Journal Die set to die cut two thin banners and tucked them under my sentiment banner and colored them with same Copic shades and finished the card with enamel dots here and there.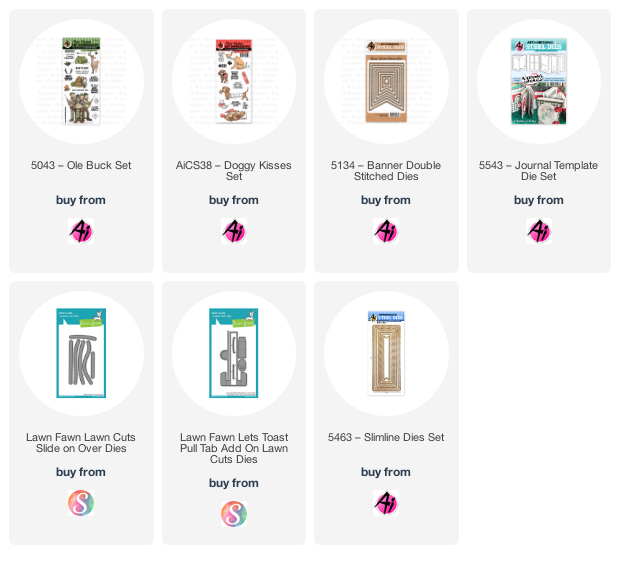 ---------------------------------------------------------------------------------------------------------------------------
Thank you so much Nina for these two beautiful, masculine cards and the incredible inspiration.
Congratulations to both of our winners!
Now for our new challenge.
✻ Please make a new card or handmade crafty creation. You can make any item you wish; this is not limited to cards!
✻ Limit two submissions per person. You will receive extra votes if you use Art Impressions stamps!
✻Please include your first name and last initial on your submission.
✻We love to comment on your entries, but keep in mind if you use a private group or a platform that you need to sign up for, we probably won't be able to.
✻ The Ai Challenge is open to everyone, international submissions are welcome!
✻ Include a link back to the Ai Blog or grab our button on the top right of our sidebar!
✻ Share the Ai love if you can, by clicking and commenting on your fellow crafters.
✻ Make sure to get your link up by the deadline to enter your creations.
✻ Good luck and happy stamping!