Hello Ai fans!
We've just ended our It's Fall Y'all challenge and are ready for a new one!
This time we're all about Buttons and Bows!


Who better to kick off this challenge than our own resident queen of bows...Sharon!
Before we share her AMAZING card, let's see who won our last challenge.

We always have two winners, a Top Spot and a Lucky Random Winner.
This time, for our Top Spot we selected

Diana S. for her beautiful 5492 – Front Porch Harvest Set.
We loved her wood background and her beautiful colors.
Please contact Leah at Feedback@artimpressions.com
to claim a free stamp set of your choice!
Also, be sure to grab your badge to display on your blog, Facebook or Instagram!
Now for our Lucky Random Winner!
😅 It was #1 this week!
Bronna Sue

Please contact Leah at Feedback@artimpressions.com
to claim a free stamp set of your choice!


Now onto our NEW challenge and an absolutely gorgeous and fun Christmas card from our featured designer Sharon...she makes the most incredible bows!

Hello AI Fans!
So it's time for a new challenge at the Art Impressions Blog, and I'm sure excited cause this challenge could not be any more perfect for me! It's (drum roll) Buttons and Bows!!!! I can't help but giggle about that! Anyone that knows me and my card making, knows I'm crazy about buttons and bows. LOL! For my creation, I wanted to use the adorable new
#5564 Mousey Christmas Set
from Art Impressions. These mice are so dang cute!!! I decided to make a shadow box card cause one of my favorite things (after Art Impressions and buttons and bows) is dimension! I love popping things up, and there's tons of dimension in a shadow box card. I wanted to add a tree and a few more presents, so I also pulled some images from
#5457 Christmas Truck Set
. It's kind of hard to see, but I also hung a snowflake from
#5353 Large Snowflake Die Set
.
This is a really easy shadow box card and I learned how to make them from Jennifer McGuire. Just do a search for her instructional videos. First thing I did was cut several pieces of paper at 5 1/2" square and decided what die I wanted to use for the cutout on the front. I cut both a white layer and the patterned paper I wanted to use on top. The white layer adds some stability since I cut such a large piece out of the center of it.
I then cut several pieces for the snowy hills and glued them into place on my card after stamping and coloring a variety of the images from the two stamp sets. I love that the dies come with the Art Impressions Stamp Sets! It makes it so easy! I can't even imagine trying to fussy cut all of these!
To make the spring between the top layer and the bottom layer of the card, I cut two strips of white cardstock 2" wide by 5 1/2" (the size of the card. Score the two pieces at 1/2", 1", and 1 1/2" and fan fold them. Then just glue them to both the front and back. You can flatten your card to send it through the mail. But when you remove it from the envelope, it pops right up again!
After adding all my images to the shadow box, it was time to make the bow. I love using May Arts silk ribbon for my bows and they are so simple to make when you use the Bow Easy.
A few years ago, I found an awesome jar of antique buttons in an antique shop. I love the fact that a lot of them still has the old thread in them from when they were attached to clothing. That's the case with this one. It already had the old thread, so I just glued it to the center of the bow leaving the thread in it.
And the final product...
Thanks so much for stopping by and hope you have an awesome and crafty day!
Copic markers used:
E50, E51, E53, E81, E83
R12, R22, R24, R27, R29
G43, G94, G99
B04
Y32, Y35, Y38
T1, T2
C4, C6, C8
B000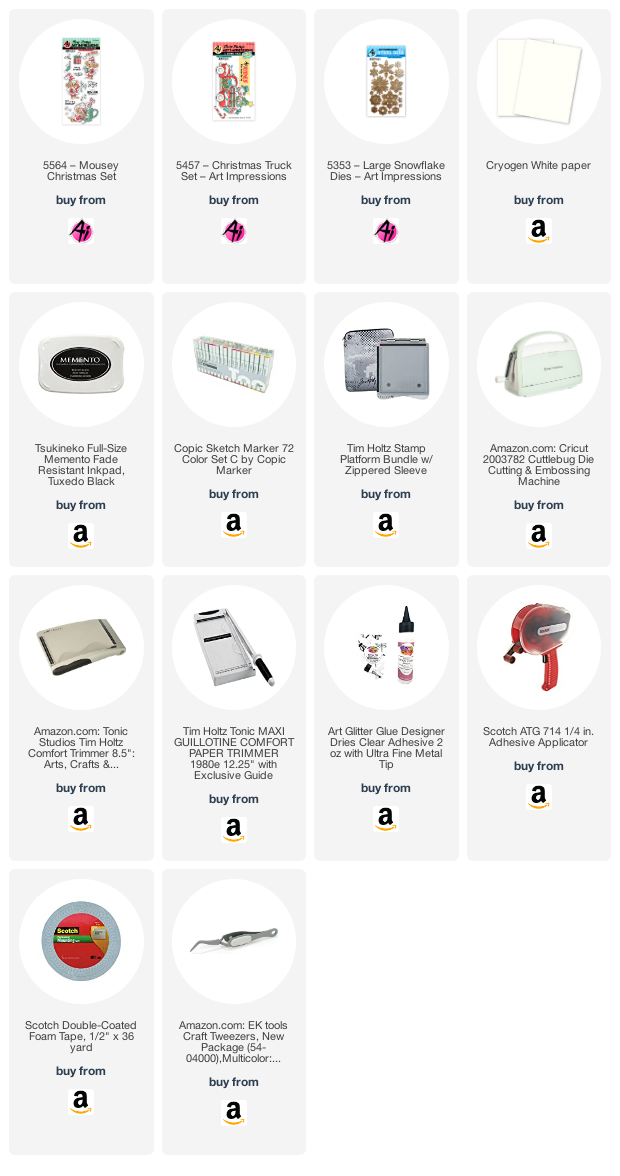 Thank you so much Sharon!
What will you all create with buttons and bows?
--------------------------------------------------------------------------------------------------------------------
✻ Please make a new card or handmade crafty creation. You can make any item you wish; this is not limited to cards!
✻ Limit two submissions per person. You will receive extra votes if you use Art Impressions stamps!
✻Please include your first name and last initial on your submission.
✻We love to comment on your entries, but keep in mind if you use a private group or a platform that you need to sign up for, we probably won't be able to.
✻ The Ai Challenge is open to everyone, international submissions are welcome!
✻ Include a link back to the Ai Blog or grab our button on the top right of our sidebar!
✻ Share the Ai love if you can, by clicking and commenting on your fellow crafters.
✻ Make sure to get your link up by the deadline to enter your creations.
✻ Good luck and happy stamping!