Welcome to the first Watercolor Weekend for April!
Our Design Team has all kinds of wonderful Spring inspiration to share with you this week! First up is Tricia, with her amazing scene:
Welcome to the first Spring Watercolor Weekend! I am ready and I bet all my friends in New England are saying the same thing. So in celebration of Spring, I decided to use my Foundations Potting Table along with the Little Girl front and back to create this cute little Spring Girl card.
I started out by inking up the back of the girl stamp with 569. I stamped it off twice to get a really light image. As with all of our first steps, I pulled the color out of the lines making sure to keep everything really light. If your brush has too much color, rinse it off and keep going. Once that was dry, not long at all, I added some 565 to my palette and added it to her dress. I kept the skirt part white and tried to layer darker paint into those really shadowed areas. For her hair, I added some 969 to my palette and painted in darker and lighter strokes until I achieved the look I was going for. Once she was complete, I created a mask and masked her off. I didn't know I was going to pop her up until later. Stay tuned!

Once she was masked off, I took my Table stamp and inked it with 969. I did not stamp it off. Since it is a clear stamp, I positioned it to the upper right of her and stamped it where I wanted it. I tried to keep in mind where I wanted the flowers and foliage so I pulled the color out of the structure, pots and hat keeping it really light. I inked up the long vines and added them to the middle and bottom pots. I didn't do the top because I knew it would be chopped off by the die. Using the daisy bunch and some other stamp that I couldn't figure out which set it belonged to I stamped in various flowers. Stamping the flowers in a light yellow and then a pink will give you a peachy color when you add the water. I added additional colors to the pots and then added water to all the structure, flowers and foliage. I use my fine tip part of the marker to add darker color directly to some of the flowers to give them more depth. Also, adding a white center with a gel pen creates additional interest.

I layered color onto the hat with pink, it's light so lots of layers to achieve a dark value. I used the small lilac and my stamp positioner to get it just right onto the hat. For the background, I added the 800 lightest pink color to give a stucco kinda look. I also added a window and hard wood floor to make it seem like a shed. Once it was done I felt like it was missing something so I took out the Little Girl back die to pop her up. It was perfect, no white space, right up to the line!!! So I cut 3 more out of plain white watercolor paper and glued them behind her. I added glue to the back and popped it back into the hole that was left and she is exactly where she was but higher
Lastly I signed and dated.
Get out there and enjoy the Spring and paint something beautiful today! Thanks for joining us and see you next time!

And now for a sweet scene from Karen:
Hello Ai Watercolour fans!
I made a spring scene featuring one of the sets from Bonnie's fall release (they work for any season!):
I stamped the wheelbarrow from 5597 - Harvest Wheelbarrow Set in Tombow #969/565 onto my Canson XL Watercolour Paper, then masked the edge to stamp my puppy from 4959 - WC Dogs Set, and my three pots from 4869 - WC Small Container set, masking and stacking them as I went. I softened all the lines with a damp brush, and then created my florals. For the striped pot, I began with the trailing vines from 5126 - WC Foliage Set 4 in #158, and added the daisy bunch from 4050 - Flower Set in #991. The taller flowers are from 5475 - WC Flower Set 6 stamped in #177/533, and then I used the tulips from the same set to fill the other pot - creating a two-tone effect with #991/856 on each bloom, and 158 on the leaves.
I used #947 to create the terracotta pot, and painted layers of #969 on the puppy, keeping some areas white, and building up layers of colour where I wanted him darker (he reminds me of Sharon Caudle's new puppy!). For the wheelbarrow, I painted layers of #526 for the blue, and used layers of #N65 to be the metal parts, keeping some areas white where they would be shiny. I used the grass from Foliage Set - 4051 in #177, and then used #565 to paint in the sky, the stripes on the pot, and shadows where needed. 5061 - Square Double Stitched Dies was used to cut out my scene, then I matted and adhered it to my base with 3D foam adhesive.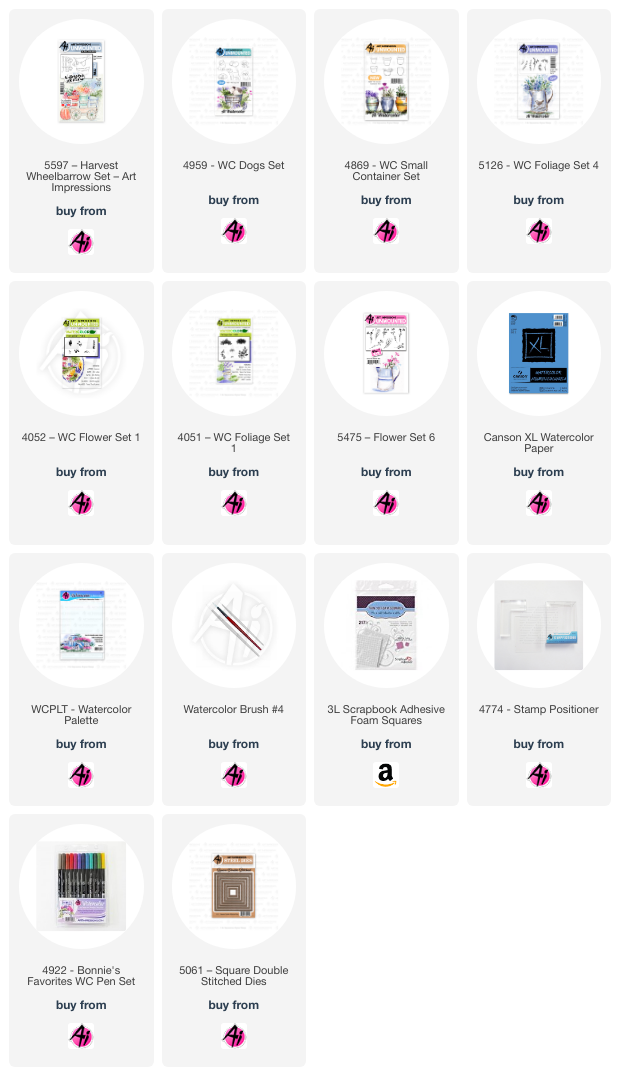 And here's a little "Easter Action" (pun intended!) from Diane:
Welcome to another Watercolor Weekend! Easter is coming upon us quickly, so I decided to make one
last Easter card. This card uses several of the newer sets, including the bunny from the front and back
set. This little bunny got quite a haul at the Easter Egg Hunt – his wheelbarrow is almost overflowing! To add some interactive fun, the bunny is attached to a Mini Action Wobbler.
This card does require a little masking but nothing too difficult.
All stamps are inked with 969/565 and stamped off once before stamping onto Canson XL Watercolor
Paper. I started off by stamping the wheelbarrow from 5597 – Harvest Wheelbarrow Set. I masked off
the edge of the wheelbarrow and stamped the group of eggs from 5738 – Easter Egg House Set. I then
created a mask of the eggs and stamped in a few more eggs to fill the wheelbarrow. After removing the
mask, I pulled out the color with a damp brush to add shadows to the eggs and wheelbarrow.
I used 526+177 to paint the main part of the wheelbarrow, leaving some areas lighter, and darkened
some areas by layering to add contours. I used 969 for the wooden handles. For the metal parts of the
wheelbarrow and the wheel, I used a mix of 565+969 to add shadows and contours. For areas that
needed to be further darkened, I used 565. I used 173/725/933/025/993/493/606 for the Easter eggs. I
made sure to leave highlighted areas on the eggs so they look rounded. Next I randomly decorated each
egg with dots and stripes. I stamped the front bunny from 5732 – Bunny Front and Back Set on a
separate piece of watercolor paper. The bunny's fur is painted with 969. I used a tiny amount of watered
down 725 for the cheeks, tongue, and inside of the left ear. I painted the egg he is holding with 725. I
left the jacket white and added shadows and contours with 565. For the pants and the stripes on the
shirt, I used 526. I darkened the eyes and mouth of the bunny with a brown TwinTone marker and used
a gray TwinTone marker for the whiskers. Then I die cut the bunny with the coordinating die and added
a Mini Action Wobbler to the back of the bunny (I had to trim it a little to fit). I brushed in the sky with
some watered down 526 and brushed in a hill with 177. I added the tiny grass stamp from 4051 –
Foliage Set 1 with 177 then pulled out the color from the grass. For the flowers I used the small leafy
vine from 4867 – WC Foliage Set 2 in 177 and the small group of dots from 5009 – WC Mini Flower Set in 606. I added tiny white dots to the flowers with Dr. Ph. Martin's Bleed Proof white and for the additional details on the eggs.
I chose a bright plaid patterned paper to complement the painting and cut the panel to fit an A2 sized
card. The painting was die cut with 5726 – Nested Circle Dies and matted with pink cardstock. I stamped the sentiment, "Easter's on its way!" in Rosebud Memento ink onto watercolor paper. Then I die cut the shapes from 5543 – Journal Template Die Set and popped it up with foam squares. For the inside of the card, I adhered a strip of ½" patterned paper to create a border on the bottom edge. To finish off the card, I stamped the "Hoppy Easter" sentiment from 5733 – Easter Sentiment Set in Rosebud Memento ink onto the card base. And finally, I attached the action wobbler bunny to the card. Of course I just had to give him a little flick to see the action – so much fun!
Until next time, Happy Easter and Happy Painting!

And that's a wrap for this week's inspiration from the Watercolor Design Team. We'll see you in two weeks with more projects to spark your creativity!