Hello Ai fans!
We have a new challenge for you today and it's just perfect for this time of year!
I mean...who can resist this?
It's Fall Y'all!
Halloween,
Thanksgiving...
even just a beautiful, outdoor scene with some Autumn colored leaves.

Janet is our featured artist this week but before we show you her absolutely adorable card we have this...

Since we're introducing a NEW challenge I think you know what that means.
It's time to announce the winners of our last challenge which was Woodn't it be Nice.
Cards that featured "wood" on them.
For our Top Spot this week, we selected
Deb Vanguilder.
She created this AMAZING sliding barn door using multiple Art Impressions stamps on the inside and hand painting her own door.
Please contact Leah at Feedback@artimpressions.com
to claim a free stamp set of your choice!
Also, be sure to grab your badge to display on your blog, Facebook or Instagram!


Now for our Lucky Random Winner.
The winner is...
Irene
actually created 2 cards for the challenge. #15 came up randomly but #14 was just as great!
Please contact Leah at Feedback@artimpressions.com
to claim a free stamp set of your choice!

Thank you to everyone who entered our last challenge. If you didn't win, don't be discouraged. Next time it may be YOU that we choose!
Happy crafting and let's see what Janet has made to inspire you all this week!
-------------------------------------------------------------------------------------------------------------------------------------------
Hello Ai Fans! I have created a card celebrating friendship and Halloween, adult style! These gals are all dressed up and ready to party. I love the creativity of the pumpkin costume so much! I wish I knew where to get one for me! LOL! This image is from 5038 - Ghoul Friend Set.
One of the great things about stamping is that you can make something in the image meaningful to you or your recipient. I gave the ladies pink and green drinks in honor of Pinkies and Greenies that a bar in Minneapolis, MN is known for. My husband and I had some good times in that watering hole and it just brings back some happy memories!
As I usually do, I sketched the basic design and then went ahead with cutting everything out. I cut the pieces with my trimmer except for the round piece. That was cut with the largest Circle Double Stitched Die. I edged the flag with Black Soot Oxide ink, the green square with Peeled Paint Oxide ink and the round with Wilted Violet Oxide ink. Inking really helps the pieces stand out from each other, especially when using so many different patterns.
I colored the ladies and fussy cut them out before gluing them to the round piece of cardstock. I also assembled the background by stacking the pieces as shown here. I popped the circle piece up with foam tape and placed it on top of the card base.
I stamped the sentiment using one from the set. I used the small Circle Double Stitched die as a template to trace a circle around it to create a thought bubble. Then I added the tail to the thought bubble. I cut it out following my sketch line and then erased the edges so that they were no longer visible.
And again here is the completed card. This would be a perfect card to send to a friend or sister for Halloween. I hope you all have this much fun on All Hallows Eve!
Thanks for stopping by today. Make sure you submit your fall card on our challenge page. It's Ghoulishly fun!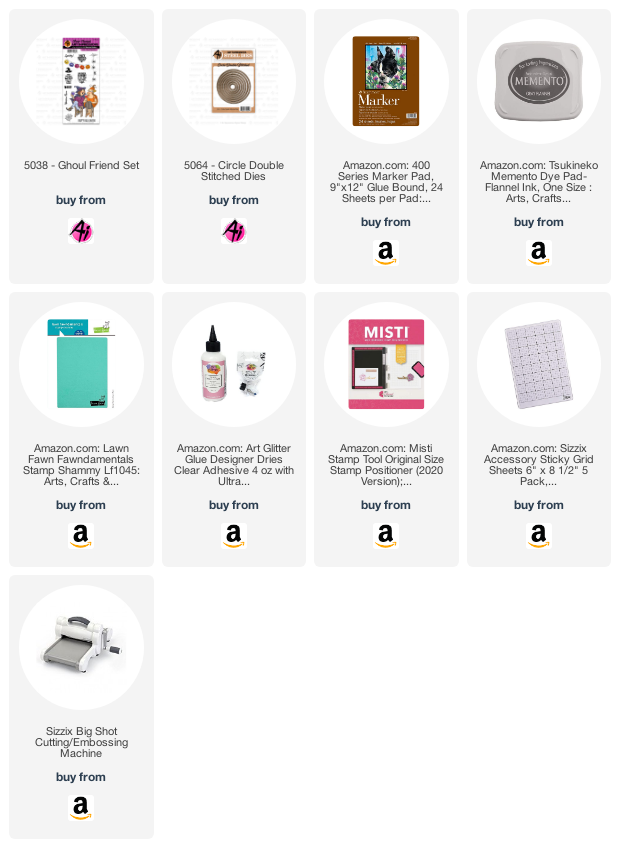 Thank you so much Janet!
Now let's see what you all make for our It's Fall Y'all! challenge!

--------------------------------------------------------------------------------------------------------------------
✻ Please make a new card or creation. You can make any crafty item you wish; this is not limited to cards!
✻ Limit two submissions per person. You will receive extra votes if you use Art Impressions stamps!
✻Please include your first name and last initial on your submission.
✻We love to comment on your entries, but keep in mind if you use a private group or a platform that you need to sign up for, we probably won't be able to.
✻ The Ai Challenge is open to everyone, international submissions are welcome!
✻ Include a link back to the Ai Blog or grab our button on the top right of our sidebar!
✻ Share the Ai love if you can, by clicking and commenting on your fellow crafters.
✻ Make sure to get your link up by the deadline to enter your creations.
✻ Good luck and happy stamping!